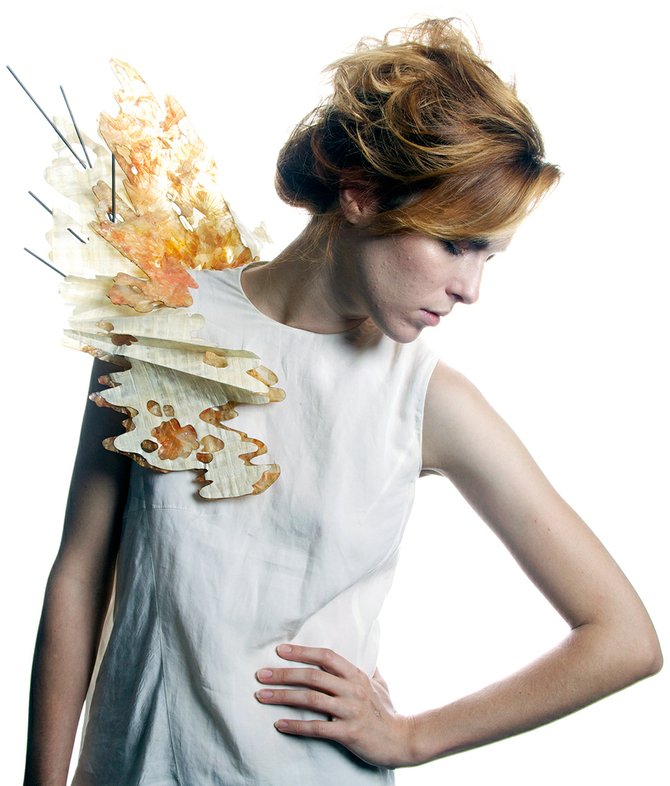 ALTAMONT — The humble onion is typically relegated to side dish status, but for Corrina Goutos, the bulb is appropriate for nothing less than high fashion.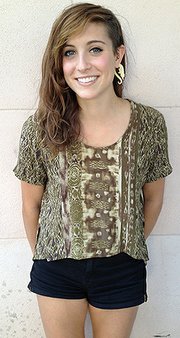 The Guilderland High School graduate recently received an award for her conceptual jewelry piece "Lim(b)itless" at the 24th Annual NICHE Awards, which is held by NICHE magazine. Goutos, now a senior at Savannah College of Art and Design, drew inspiration for her large brooch from advancements in medical technology allowing for doctors to explore growing limbs in a Petri dish.
To start her brooch, she turned to a natural material most people throw away.
"I took tons of onions skins from my grocery store," Goutos said.
Goutos remembered looking at onion skins under a microscope in school and thought they resembled skin cells. Her creation also used laser-cut resin, papyrus, vellum, steel and copper. She made the jewelry more than two years ago, but entered it in this year in NICHE's contest.
"At that time it was extremely challenging to make, and to have it be such a success was really exciting," she said.
Even at a young age, Goutos was recognized for her artistic talents. Goutos, an Altamont native, received an award from an area museum in first grade for a clay sculpture she did in school. Her teacher entered the piece for her, and it was featured in a traveling exhibit of student artwork.
"That just meant so much to me," she said.
Being recognized at a young age also led her to major in jewelry and objects. Receiving encouragement from her elementary teachers and parents had a big impact on her decision to follow her passion.
"I really think that is a big reason for why I am where I am today," she said. "I was always down this path. I wanted to be a jewelry major long before I came to school."
(Continued on Next Page)
Prev Next
Vote on this Story by clicking on the Icon