continued — Goutos' "Lim(b)itless" was among 40 pieces of artwork selected for top honors out of 1,000 submissions from professionals and student artists. Judges evaluated entries for technical excellence in surface design and form and for originality and creativity. Contest winners were announced at the Feb. 16 Buyers Market of American Craft, which is a wholesale art trade show held at the Pennsylvania Convention Center in Philadelphia.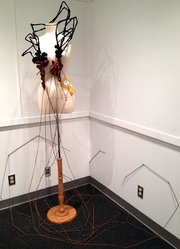 The awards program was created to recognize excellence and innovation in American and Canadian fine crafts.
Goutos received the award only four days after capturing two other awards for her work. As graduation looms, she is leaning towards applying to graduate school but might take a year off to get experience in the field.
"I have been just toiling away for four years here and you don't usually get recognition," she said. "Eventually, I want to open my own business and sell jewelry to the public at prestigious fine craft shows in New York City."
She likes exploring materials other than precious metals when making jewelry, because other materials can be just as good and adds variety to her work. Her choice is also ethically based.
"I just felt a guilt," she said. "The amount of gold it takes to make one wedding band, the mining process creates 20 tons of waste."
To create one piece, she used plastic beads bought from a craft store and then melted them, creating a lava-like result.
"Nobody recognizes what they are," she said. "It was a cool way to disguise something so basic and take it to the next level."
Goutos is featuring her senior collection at The Butcher Art Gallery located on East Bay Street, in Savannah, Ga., from May 24 to June 2. To view Goutos' online portfolio, visit corrinagoutos.com.
Vote on this Story by clicking on the Icon