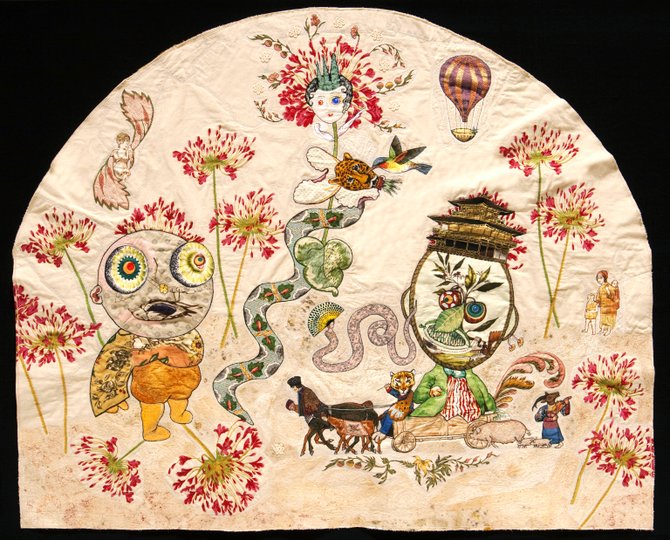 continued — That was when she began experimenting with collages.
"I started piecing other work together. I began cutting up my own drawings and putting them back together," she said.
Hersh said that as an artist, in order to get a point across you use whatever material you can. In the airport exhibit, Hersh layers acrylic paint and Mylar paper to create the image of brightly colored flowers popping out of a dimly lit pile of trash.
"It's sort of very ugly in so many ways but then hopefully there is something beautiful that can come out of it," says Hersh.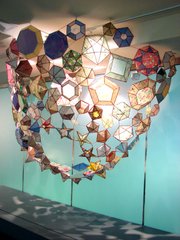 Also featured at the exhibit is New York City artist, Kirsten Hassenfeld. The artist, who grew up in Delmar, takes paper collage to a whole new level. By incorporating ordinary items such as envelopes, wrapping paper, buttons or anything found in a junk drawer, she creates complex, large, symmetrical forms.
"Cabin Fever," one of Hassenfeld's pieces in the show, hangs from the ceiling, is about 10 feet high and 7 feet wide and is constructed out of vintage wrapping paper and security envelopes connected by pipe cleaners and paper straws.
"The piece has exhibited in other places, but she reconfigured it specifically for our site here," said Sharon Bates, director of the Art and Culture Program at the Albany International Airport.
Also featured at the show, in a twist on the traditional notion of a collage, Emmy Award-winning video archivist Rich Remsberg uses footage from old newsreels and combines the images with music to form a narrative collage that is projected on one of the gallery walls.
"We usually have some type of electronic medium," said Bates. "It's pretty reflective of how artists are working these days."
Bates said the gallery tries to predominantly feature artists who live and work in the area, but even those from other areas have some type of regional connection.
Vote on this Story by clicking on the Icon