BETHLEHEM — The superintendent of highways in the Town of Bethlehem will remain an elected position after residents voted against a new local law that would have abolished the office.
The final count for the referendum on the local law was 3,086 votes against to 1,969 votes for the abolishment of the office of highway superintendent as as elected position. The vote took place on Tuesday, April 30, the same day former Highway Superintendent Gregg Sagendorph chose to retire.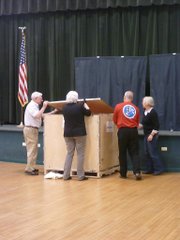 "The voters have spoken and while I'm disappointed that local law number one wasn't affirmed, we have an agenda to fulfill given the verdict," said Town Supervisor John Clarkson.
The supervisor said the next step is to spend the remainder of this year working with the highway department to "ensure the shared service savings already achieved with the cooperation of Gregg Sagendorph are preserved." The town will also be preparing the department for the arrival of a new highway superintendent in January. Voters will select one in November.
Commissioner of Public Works Erik Deyoe has been selected to fill the position on an interim basis. Deyoe has also been working for several months with Sagendorph to learn highway procedures and make sure the transition is smooth.
The proposal to abolish the highway superintendent position was first put forward by Clarkson during this year's State of the Town address, shortly after Sagendorph announced plans to retire after holding the position for 22 years. If the referendum had passed, a civil servant would then have been hired to help manage the highway department under the public works umbrella.
Citizen advisory committees have studied the idea since 2006 under the administration of former Town Supervisor Terry Egan. The town's Governance Committee found 59 other towns in New York, mostly larger suburbs, no longer elect their highway superintendents. Estimates were the town could conservatively save between $180,000 to $375,000 annually through the consolidation of departments.
(Continued on Next Page)
Prev Next
Vote on this Story by clicking on the Icon