continued — Clarkson was in favor of making the change since it was first proposed, and was the driving force behind a the "Modernize and Economize" campaign to drive voter participation. The supervisor said he was glad the issue was finally put to a vote and the town's residents were able to make a decision after so many years of talk.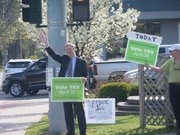 "I Think the Town Board and I did the right thing by bringing it to the voters and I regret nothing," he said. "It can be hard to convince people to make fundamental changes in government, no doubt. But a lot of people did support that change. We'll see what we can do without it and move forward."
In response to the referendum, a group called Keep the Vote Bethlehem emerged with the goal of urging voter to not give up their ability to choose who would fill the highway position.
Keep the Vote Bethlehem was formed by Bethlehem Republican Committee Chairman Fred DiMaggio, Republican committee member Mike Kelly Sr. and Democrat town resident Dan Cunningham, after the Town Board set a public hearing on the topic in February. Cunningham said the group was a non-partisan coalition that was formed because they felt the reasons for the change were "questionable."
The group purchased lawn signs and leaflets after fundraising at meetings. There was also a Keep the Vote Bethlehem website and Facebook page. The group was supported by all four of the county's political committee chairpersons. Some committee members have also given funds to the cause.
DiMaggio said he was very happy with the large turnout and especially thanked the people of South Bethlehem for driving to Town Hall to vote.
"No question that when you take away people's right to vote there are strong feelings about that, and this is something that will be brought to bear as we move forward," he said. "We're pleased with the victory tonight because it demonstrates the peoples desire to have a choice. This was an important issue that transcended party lines."
Vote on this Story by clicking on the Icon