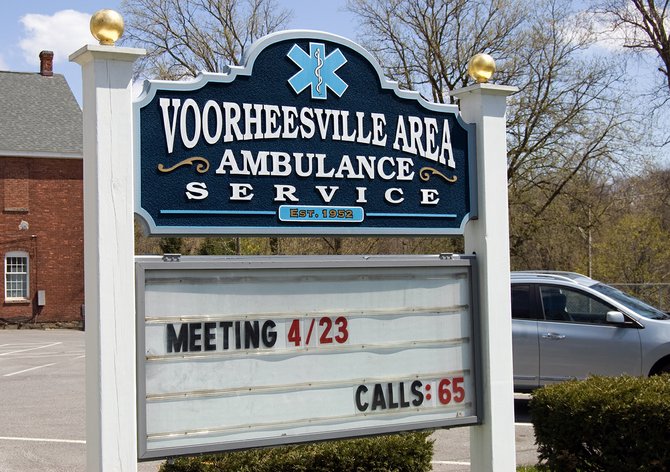 VOORHEESVILLE — Four months have passed since Voorheesville Area Ambulance Service's contract with the village expired, and contract negotiations have flatlined.
Negotiations stalled when a majority of the Voorheesville Board of Trustees wanted to withhold about $8,800 in funding from the ambulance service's reserve accounts, saying the village faces challenges in supporting its $2.12 million budget. The reserve account typically funds vehicle purchases and capital projects.
Mayor Robert Conway said trustees are weighing their options and discussed the contract at a Tuesday, April 23, meeting.
"The board is kind of split right now on what is the best way forward," Conway said. "We have a few board members that are leaning towards signing the contract and moving forward and there are a couple of board members adamant about not signing the contract given all the other budget saving steps we took and additional budget pressure we are under."
The village pays about $28,000 per year into the ambulance service's operating fund, some of which is reimbursed to the village through billings. The Town of New Scotland and the Village of Voorheesville split the service's costs 60-40.
Originally, New Scotland and Voorheesville officials were going to withhold a combined $22,000 in reserve funding. After ambulance service representatives appeared at New Scotland's budget hearing, the Town Board restored its portion of funding, according to New Scotland Supervisor Thomas Dolin.
"They explained the need for the reserves and it was the board's conclusion that it would be appropriate to continue that reserve for another year," Dolin said. "We are going to look at it again this year."
The rest of the contract doesn't appear to be in contention. Calls to Voorheesville Area Ambulance Service were not returned.
Conway said Voorheesville trustees feel negotiations are not progressing and some concerns are starting to surface.
"We are now entering into the fifth month and there has been no movement. You start getting concerned about liability issues and those types of things," Conway said.
(Continued on Next Page)
Prev Next
Vote on this Story by clicking on the Icon