ALBANY COUNTY — At least 1,000 people are expected to strap on their sneakers this weekend in hopes of not just improving their own health, but helping others as well.
The 2013 Capital Region Heart Walk at The Crossings of Colonie will begin with breakfast and last-minute registration at 9 a.m. on Saturday, May 4, and walkers will take either a 1- or 3-mile stroll. Participants raise money for the American Heart Association, and the donations go directly to funding research and education to fight heart disease and stroke. This year, the goal is set for $570,000.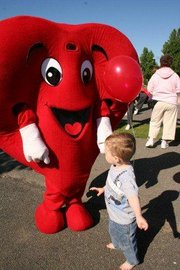 "That's what we strive for," AHA's Senior Regional Director of Communications Kathy McCarthy said. "We leave our books open until the end of June so people can continue to give. The more they give, the more research we can fund in the area."
Over the past years, the walk has raised close to $400,000 at each event, McCarthy said, but the take varies depending on corporate support and how many people participate.
Heart disease and stroke survivors will also be honored at the event. Adult survivors will wear red baseball caps and children will wear red capes. Right before the walk, survivors will participate in the "red cap survivor wave" by waving their caps in the air.
"It's nice every year, we seem to have a few more survivors … always encouraging," McCarthy said. "More people are surviving heart disease and stroke."
In 2009, heart disease was named the leading cause of death in New York, with stroke determined as the fourth leading cause. According to the AHA, New York had the 16th highest death rate from cardiovascular disease in the country that same year. People who are at risk of heart disease and stroke include those that are smokers or overweight.
Throughout the event, The Crossings will be filled with information and activities on heart-related topics. The Town of Colonie EMS will give hands-only CPR training and St. Peter's Hospital will provide heart health checks with blood pressure screenings and information on heart risk factors. Lunch will be provided by Subway and B95.5's Bill Fox will emcee the event. There will also be a Kids Zone with a face painting, arts and crafts and games.
(Continued on Next Page)
Prev Next
Vote on this Story by clicking on the Icon