GUILDERLAND — There are more than just flowers blooming in Guilderland this spring, as new businesses sprout up one after another.
That's how officials at the Guilderland Chamber of Commerce see it. They have been attending numerous ribbon cuttings over the past several months, in the fall and late winter bringing their big scissors to 13 businesses openings, according to Chamber President Kathy Burbank. New businesses opened in storefronts that went dark during the last several years as the economy slumped.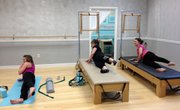 "There has been at least the same amount of businesses closing over the last three to four years," Burbank said. "It's just that the buildings or spaces remained empty for a while and now all of a sudden these last six months have been very active for new businesses opening. I would say all of the empty spaces except maybe a few have been filled."
Burbank said there has been a combination of professional offices, retail stores and restaurants opening primarily along Western Avenue, including in Crossgates Mall.
"I feel hopeful that the economy is slowly turning around and is making people more confident in opening a business here," Burbank said. "The recent flurry of activity is more than I have seen in my six years here and I think it may be a first for Guilderland."
Burbank said the Chamber doesn't do much to attract new businesses, because it "can't promise" anything to potential businesses. She said commercial realtors primarily are the main force in attracting businesses to the town.
The Chamber does help struggling businesses by meeting with them to develop marketing strategies and by holding events at their stores. Burbank said community events, such as Restaurant Week, also help draw customers to new businesses.
"Most of these events are free or very low cost for businesses," Burbank said.
(Continued on Next Page)
Prev Next
Vote on this Story by clicking on the Icon