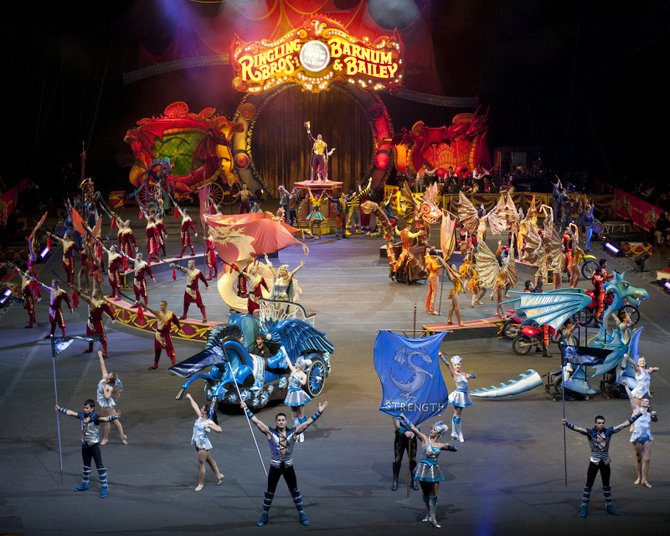 Iverson said the circus is an invitation back to when adults believed in imagination, magic and miracles.
"You are going to see miraculous things when you come to Ringling Bros. and Barnum & Bailey," he said. "There is a magic about the greatest show on earth."
Although Iverson wears a top hat, presides over a fantastical competition of tigers and lives on a circus train with his family, like most fathers, he wants the best for his kids.
"It's sad. Everything in entertainment is so vial, so tainted now. It violates the imagination," he said. "I think the main reason why Ringling Bros. is where it is, is because we don't do that. The only times you are going to be covering your eyes or your ears is when the thrills becomes a bit too much or maybe when the music is a bit too loud."
Iverson said the reason people continue to come to the circus is simple – it makes them happy, and who doesn't want that?
"It's just pure and it's safe," he said.
Iverson will welcome children of all ages to the Ringling Bros. and Barnum & Bailey circus at the Times Union Center this week. The latest edition honors the Year of the Dragon, and circus performers will showcase breathtaking feats of bravery, the fearless Cossack riders will perform dangerous stunts at more than 25 miles per hour, acrobats will vault more than 20 feet into the air on a one-of-a-kind double-decker trapeze and The Torres Family will pull off death-defying motorcycle tricks, including a daring ride within a 16-foot-diameter globe.
Doors will open one hour before show time for an All Access Pre-show, free with your ticket. Families can participate in interactive experiences such as juggling and balancing skills, get performer autographs, see Asian elephants and meet the circus clowns.
See Ringling Bros. and Barnum & Bailey's DRAGONS at the Times Union Center May 2 through May 5. Tickets can be purchased online at ticketmaster.com or by phone at 800-745-3000. For more information about the show, visit www.ringling.com.
Vote on this Story by clicking on the Icon