continued — In 2007, the nonprofit began its Women's Program. Students have the option of taking one of four educational classes, including literacy, beading, sewing or cooking. Those who graduate from the programs are invited to sell their goods through the ministry's store, Haitian Creations.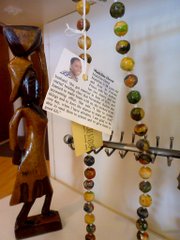 The women are taught to sew on old, foot pedal sewing machines, so electricity is not needed. The jewelry is made by rolling long stripes of colored paper into balls and then gluing them together.
The boutique sells jewelry, purses, clutches and makeup bags all made by hand by former and advanced students of the Heartline Ministries Woman's Program. Each piece has a tag that includes the woman's picture, name and background, so customers can feel a connection with the crafter of the item they're purchasing.
Haitian Creations also works as a type of consignment shop, with the profits from each piece sold going back to the woman who made it.
West is now selling a number of Haitian Creation products at her spa and salon, Day Dreams of Delmar. Many of the products West brought back with her have already sold, and because of their popularity, she's ordered another shipment from the nonprofit's satellite store in Colorado.
West said she has not changed the price on any of the products because she feels they are fairly priced and she wants them to sell to help the women who created them.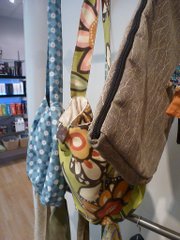 "I'm not out to make a profit on this," she said.
Purses cost around $35 and change purses are $10. The jewelry is priced differently depending on the piece. West said she's hoping the newest shipment will come in before Mother's Day because they make great gifts.
Those who would like to order products for themselves or to sell in their own stores can do so through the Haitians Creations website. The shop will also send packs of accessories and purses to anyone wishing to have a "shopping party." Anything that doesn't sell can be mailed back to the nonprofits along with the proceeds.
"Going to Haiti really changed my perspective and made me realize how strong these women are. There's still a stigma there about women being the sole breadwinner in the family or they are perceived as being out-of-line in their role as a women, much like it probably was here in the 1950s," said West. "They have to walk a fine line."
To learn more, visit www.haitiancreations.com or stop by Day Dreams of Delmar to purchase locally.
Vote on this Story by clicking on the Icon