COLONIE — "The art of dance insists it look easy."
A packed auditorium of North Colonie fifth-grade students watched Director of Arts Education for Saratoga Performing Arts Center Siobhan Dunham gracefully move across the stage on the tips of her toes, describing how she must keep her head up and have elongated movement with her legs.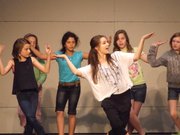 Using ballet as one example of dance, Dunham and two other professional dancers spent the morning of Friday, May 3, at Shaker High School with the entire district's fifth-grade students for the arts education series "Classical Kids." The school-based program is sponsored by SPAC and Union College, and was created in 1993 to help provide an interactive approach for children to learn about classical music and dance. This year, the program will visit 22 schools in 13 school districts.
This is the 10th year North Colonie has worked with the program, allowing fifth- and sixth-grade students to partake.
"We assume kids get the opportunity through their families (to see performances), but some don't," said District Music Supervisor Deborah Keough. "It's a remarkable opportunity for fifth- and sixth-grade students to see world-class performances."
After watching the in-school performances this year, the children are invited to come to SPAC in August to see a live performance of the modern dance troupe MOMIX, presenting "Botanica," a mix of dance, theater and cinema. If the students attend the August performance, they will receive two SPAC season lawn passes every year for classical performances that they can use until they graduate high school.
With the launch of the 2013 season, this year's "Classical Kids" has introduced more contemporary forms of dance along with ballet, and added a multimedia component for classical music presentations. The new program offers classical ballet, jazz, tap, modern and hip-hop styles of dance.
"The changes are designed to make the experience more interactive, relevant and accessible for kids. The more engaged they are, the greater the likelihood that they will continue to explore and appreciate the arts as they grow up, which is the ultimate goal," SPAC's President and Executive Director Marcia J. White said in a statement.
(Continued on Next Page)
Prev Next
Vote on this Story by clicking on the Icon