continued — During Friday's performance, Dunham and two dancers, Emily Lnenicka and Union College dance instructor Marcus Rogers, performed for the students and discussed the differences between conventional dance forms like jazz, hip-hop and ballet.
"Each dance move has its own challenge," Dunham said. "Dance is an evolving art form. All dancers need to draw and take from each different movement."
While ballet may evoke more aristocratic and elegant movements, jazz was described as "sultry" and hip-hop as "bouncy."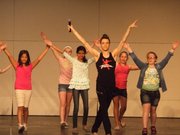 Another segment of the new program is active participation. The three dancers invited 30 students on stage with them, separating them into three groups to learn a short jazz, hip-hop or ballet dance. Two male students also learned how to help a female dancer on a promenade, in which a male dancer guides a female dancer as she walks around him.
"It was really cool. I liked how you could participate," Southgate Elementary School student James Thompson said after watching the performance.
Dunham also expressed how male dancers are sometimes underrated, even though they lift the female dancers, add extra turns in her dance or "make her look great."
"Male dancers in many ways are an unsung hero," Dunham said.
After the performance, students asked the dancers questions, including asking Rogers if he had played sports in the past. He said he played football and baseball but they were "too easy" and decided to dance instead.
"It was really amazing to see how good they were and to see how naturally it came to them," Southgate Elementary School student Isabella Provost said.
Provost's classmate Chloe Baldwin agreed.
"I think it went really great and I want to see it again," she said.
Vote on this Story by clicking on the Icon