Each spring, thousands of tulips take over downtown Albany. The appearance of the flowers mark the beginning of spring in the city and have a way of bringing a feeling of renewal to Albany each year.
The concept of renewal can have a number of meanings, and for a group of youth from the Equinox Outreach Center, the word brings to mind a multitude of ideas. On Thursday, April 25, the teens and young adults began to turn the sidewalks of Central Avenue into a canvass, each using chalk to create what renewal means to them.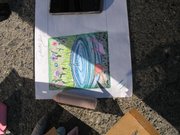 Molly Belmont from the Central Avenue Business Improvement District (Central Avenue BID) said it was interesting to see the different interpretations of the concept of renewal.
"Everything from water, a nature scene with water dripping down and flowers to a recycling mural piece, to this kind of cool video game look with a maze inside," said Belmont, describing the scenes that developed.
The chalk creations were a practice run for an event coming to Central Avenue on Saturday, May 11, coinciding with Albany's Tulip Fest, called "Drawing Up Central."
"We are always interested in bringing visitors to our district, and Tulip Fest is an excellent opportunity," said Belmont.
Belmont said the folks at Central BID and Equinox put their heads together and came up with the idea of a sidewalk chalk contest.
"It's something that has been done elsewhere and really well received," said Belmont. "There are artists who do sidewalk chalk art, but it's also something families can do."
Registered to participate in the contest are artists who have won similar contests in the past along with local youth and families.
A number of squares have been chosen along Central Avenue from Henry Johnson Boulevard to Lexington Avenue. Each artist will be assigned a 3-by-5-foot square. The creations will be judged and prizes will be awarded for the best youth and the best adult creation.
(Continued on Next Page)
Prev Next
Vote on this Story by clicking on the Icon