COLONIE — When he was a student at Binghamton University, Alex Finsel lacked self discipline. Were he to mess up in high school, there was always a teacher, friend or parent to motivate him back onto the right track. But when he entered college, that motivation was absent and by his second semester, his GPA was so low he didn't know what to do.
That's when Finsel got a call from a Marine Corps recruiter. He decided to drop out of college.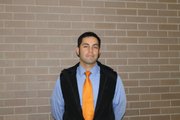 "It was my escape mechanism. I learned to grow up pretty fast in the military," he said.
Finsel got what he needed in the ranks of the Marine Corps, and now, more than 15 years after becoming a college dropout, he's being recognized for his academic achievement as the 2013 recipient of the Jean Edgecumbe Groff '39 Graduate Scholarship in Education in the School of Education at the University at Albany. And he's also bringing the ideals that shaped his life for the better to a new generation as a teacher at Shaker High School.
The scholarship was established by 1938 University at Albany graduate Jean Edgecumbe Groff, and is awarded to a School of Education student enrolled in a masters or doctoral program who demonstrates a strong sense of academic merit. In the past two years, Finsel was awarded two other scholarships also based on merit. He figured he had nothing to lose by applying for another.
"I'm flattered. I'm very grateful that this is going to help me continue to finish my education and it's very humbling. I always have a lot of doubt and am very hard on myself, and to know this … is encouraging and empowering to my talent," he said. "I was thinking there's no way I'll get another one, I thought I'd be monopolizing these things."
(Continued on Next Page)
Prev Next
Vote on this Story by clicking on the Icon