VOORHEESVILLE — More than 50 people turned out to lend Mother Nature a helping hand, or maybe even a green thumb, at John Boyd Thacher State Park this past weekend.
New York state's "I Love My Park Day" was held for the second time on Saturday, May 4. The event is meant to encourage people to volunteer at their favorite local state park to assist with cleanup and beautification projects. The New York State Office of Parks, Recreation and Historic Preservation and Parks & Trails New York sponsor the event.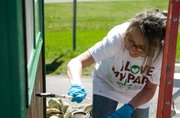 Volunteers were spread out across Thacher Park performing various tasks from painting, to planting flowers, to performing trail maintenance. Thacher Park Manager Chris Fallon said the event allows several tasks to be knocked off that park workers would otherwise have to tackle.
"We picked out some projects that we thought we could use some help with. … We always have projects like that," Fallon said. "We picked out maybe 10 or so for today. What doesn't get done, we will do with our own forces."
Fallon said park funding is still "kind of flat," but the state recently approved funds for capital projects at state parks to help make improvements.
Some of the trail projects performed involved rerouting the Long Path Trail, performing trail maintenance for the Indian Ladder Trail and spreading crushed stone, shale and woodchips to even surfaces and fill in washed out sections of trail.
Sisters Patti Mead of Guilderland, Mary Fox of Colonie and Shannon Hickman of Guilderland were painting the booth near the park office.
"We the love the park and we like to volunteer," Mead said. "We have been coming here our whole life."
Mead said it was the first year she had volunteered for the day, but she plans on participating again.
Hickman said the park offers a lot during all four seasons, so she wanted to give back to the park. Fox said she enjoys snowshoeing and cross-country skiing.
(Continued on Next Page)
Prev Next
Vote on this Story by clicking on the Icon