continued — "It is an absolutely beautiful park," Fox said.
Erin Kelly, who recently moved to Rensselaer, said she had never visited the park before volunteering that day. Kelly was planting some flowers outside of the park office with her friend Nicole Anuszewski, also from Rensselaer.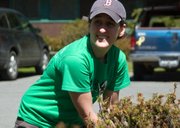 "We were going to come out to hike and we decided to come out and volunteer instead," Kelly said. "We just moved to the area two weeks ago and had never been to the area before, and we thought it would be a great way to come out and explore."
Altamont resident Jim Schaller, also a member of Friends of Thacher Park and trail volunteer, was part of a group that placed fencing around a sinkhole that developed off of a trail.
Schaller said when the park was established and roads were built, the natural drainage was cut off and "big heavy ditches" were made to funnel water into the natural sinkhole.
"Over the years, erosion has greatly enlarged it and when there is water coming down here during the wet seasons it is a torrent of water," Schaller said. "It was determined that since this section of the Long Path is only 20 to 30 feet away from it that people walking or hiking might get over there and fall into the hole by mistake. … We decided to put some nice green fencing around it to keep folks at a distance."
Schaller said further up the path the group rerouted the trail and cleared a pine tree that had fallen across the pathway.
Becky Nold of Glenville and her 13-year-old son, Andrew, were a part of Schaller's group.
"We enjoy the parks, all of them, and we enjoy hiking so we wanted to spend the morning maintaining the trails so that we could enjoy them later," Becky Nold said.
Vote on this Story by clicking on the Icon