continued — Andrew said he goes hiking about every two weeks once the weather is nice and he enjoys being outside. Becky Nold said her family probably comes to Thacher once each year and they often head north to the Adirondacks, as well.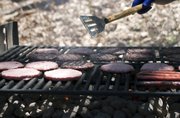 At around 1 p.m. the volunteers gathered to eat lunch, which consisted of a bounty of food from hot dogs and hamburgers to vegetarian chili.
Eileen McFerran, of Albany, and Jayne Maloney, of Delmar, picked up some food after volunteering, but they also had done work before the event and would continue to do more afterwards. The two women are a part of the Thacher Garden Gang, which is an offshoot group of the Friends of Thacher Park.
The two said they were at the event last year and worked on the planters throughout the park, which then turned into a constant focus for a group of volunteers. There are 17 planters at the park that "were 10 years untouched" at the time.
This year the "gang" is working on installing plants and flowers at the two park bathrooms following their success with planters.
Vote on this Story by clicking on the Icon