BETHLEHEM — For generations, Mother's Day has been a celebration of not just one's own mother, but of the influence our maternal figures have on society.
This year, members of one Bethlehem Girl Scout troop will be showing their appreciation for more than just their own mothers. Since January, members of Elsmere Brownie Troop 1308 have been collecting supplies to be donated to Community Maternity Services, an agency of Catholic Charities of the Diocese of Albany.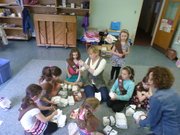 "This is really their first effort of taking on a bigger service project, so it's nice to see them entering into that next step of girl scouting," said troop co-leader Mary Poust.
The girls selected the project as a way to earn a "Journey" badge as part of the Girl Scout Leadership Experience program. The exercises and service projects associated with the program are meant to teach the girls about how they can change their world for the better.
"We're hoping that the girls see they have the ability to make a difference even though they're still young," said Poust. "This project is something concrete. They can see their making a difference right here in their own community."
Community Maternity Services is a community-based outreach group that focuses on social services and parenting education for adolescent mothers. The charity includes several residential programs, along with continuing education efforts and employment preparation programs.
At the beginning of the year, the troop placed playpens at several locations in Bethlehem and Albany to collect donations of new baby supplies. Enough items were collected to create 24 gift bags for mothers in the residential program at Community Maternity Services. The girls also made fleece baby blankets and beaded bracelets as more personal gifts for each mother.
"Most of these kids don't have a lot of family support. We become a family to them," said Ann Marie Couser, the communications director at Community Maternity Services. "So when they see people they don't even know are doing something for them, it's a thrill. They're not used to special treatment."
(Continued on Next Page)
Prev Next
Vote on this Story by clicking on the Icon