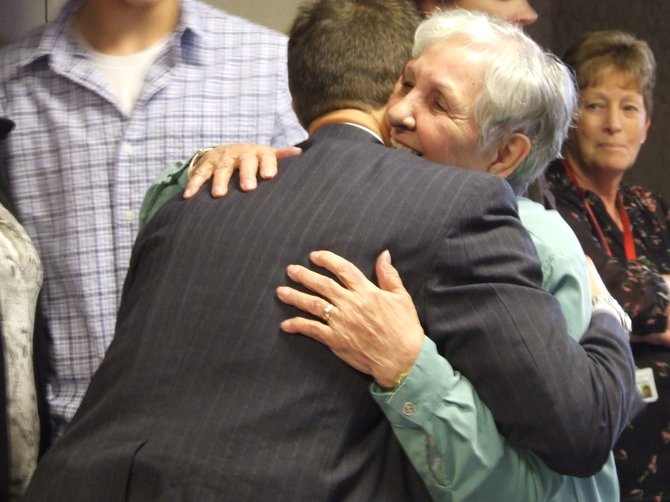 continued — Julian, who has worked with Rappold for more than 25 years, said she has been "proud and privileged" to work with Rappold.
"She has taught me everything I know," Julian said.
Patient readmission avoidance, Julian said, is one of the many things Rappold has worked at diligently over the years. Julian said the hospital has been trying to prevent readmissions, and a main component of that is having strong communication and thorough paperwork.
"Esther does a fabulous job with that. Everything and anything there is to know when a patient leaves … she not only completes the regulatory paperwork, but goes beyond that by making patients and families feel comfortable," Julian said. "She's very compassionate, very thorough. We're just so lucky to have her."
Going above and beyond seems to be natural for Rappold. Many times on patient's forms, she'll add in specifics about the person to maximize their comfort. Julian said sometimes Rappold will add in "if a patient likes a backrub at a certain time of night" or "a glass of milk."
That compassion and care, Rappold said, is something she likes to give because it's the type of care she'd like to receive if she were in their position.
"I think of the patients as if I were there in that bed, what I would want to happen to me," Rappold said.
And over the years, Rappold has spent a time or two at the hospital as a patient herself. Don recalled one snowy day when his mother had been called into work and the roads were bad. As she made her way through the hospital's parking lot, she slipped, fell and broke her ankle.
"She came to work that day as a nurse and wound up as a patient," he said. "She was very dedicated to coming into work. She was always here, always wanted to be here when it was her shift."
Vote on this Story by clicking on the Icon