BETHLEHEM — The Bethlehem Public Library may not have been established if it weren't for the inquiries of a Delmar Progress Club member into the condition of London factories during the Industrial Revolution.
In May of 1913, Mrs. Blake (her first name is not known) was doing a report for the women's group that had been started 12 years earlier. Finding little information and having nowhere to do research, Blake turned to the 25 members of the Progress Club to ask about starting a local library.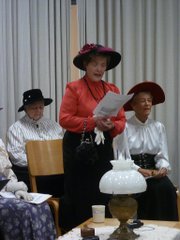 The idea would spark a 100-year working relationship between the members of the women's club and the library.
"We're certainly proud of the fact that our group started the library and was able to help further the education of the town's residents for so many years," said Delmar Progress Club President Wilma DeLucco. "In doing our research for the anniversary, we learned 70 percent of libraries were founded by women's clubs in this country."
On Saturday, May 11, the 100th anniversary of the library was commemorated with a Founder's Day celebration at the Bethlehem Public Library on Delaware Avenue. The event was the first of three celebrations planned to mark the establishment's centennial.
Current members of the Progress Club dressed in period style clothing and reenacted the founding of the Delmar Free Library Association. The event included a short sing-along of period music that was originally performed as part of several concert benefits to raise funds for the library.
The women also performed a portion of the 1898 play "What Became of Parker" by Maurice Hagerman, which was another fundraiser put on at the time that netted $88, or $2,040 in today's money.
The library began in a small room inside a former elementary school that is now the Masonic Temple on Kenwood Avenue. After raising money for three more years, the George C. Adams estate gave a plot of land to the library for a new building to be erected at what is now 90 Adams Place.
(Continued on Next Page)
Prev Next
Vote on this Story by clicking on the Icon