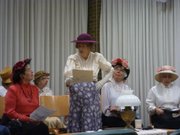 continued — The land was sold to the library association in the summer of 1916 for $1, with the stipulations that a $3,000 building be erected within one year. The agreement also stipulated that "no liquor or other intoxicating drinks could ever be sold on the property."
The women of the Progress Club ran the library on a volunteer basis until 1931, when operation was turned over to the school district. In 1972, the library moved to its current location.
Because of the ongoing partnership between the women's group and the library, the Board of Directors proclaimed May to be "Delmar Progress Club Month."
"I don't know exactly what to say about the ladies of the Progress Club, because I can't say enough," said Library Director Geoffrey Kirkpatrick at the Founder's Day celebration. "They started planning all of this more than a year ago and it came out beautifully. This group started the library and they're still working with us today."
A Centennial Committee was formed last year by members of the Progress Club, with Mary Richards doing much of the research and writing the script for the event.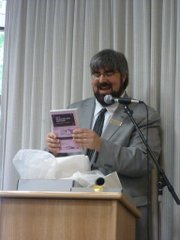 Following the reenactment, Kirkpatrick opened a time capsule that was created by library staff to commemorate the library's 75th anniversary celebration.
Contained within the sealed box was memorabilia from the celebration in 1988, a photograph of the library's staff, a copy of The Spotlight, a copy of the library newsletter and a list of facts about the library from 25 years ago. The letter said compact discs were one of the most popular items checked out that year and a lack of parking spaces was an issue that would need to be addressed in the future.
Library officials plan to create a new time capsule that will be sealed at the final 100th anniversary celebration on Saturday, June 29. Kirkpatrick said he plans to include similar items with a note, but would ask that the new time capsule be opened after a longer period of time.
"It was very charming, but I think it would be more interesting 50 years down the road," he said.
The day concluded with an ice cream social, one of the original events put on by the Progress Club when the library was founded.
"We're happy to continue the club's tradition of working so closely with the library to make sure it continues for future generations," said DeLucco.
Vote on this Story by clicking on the Icon