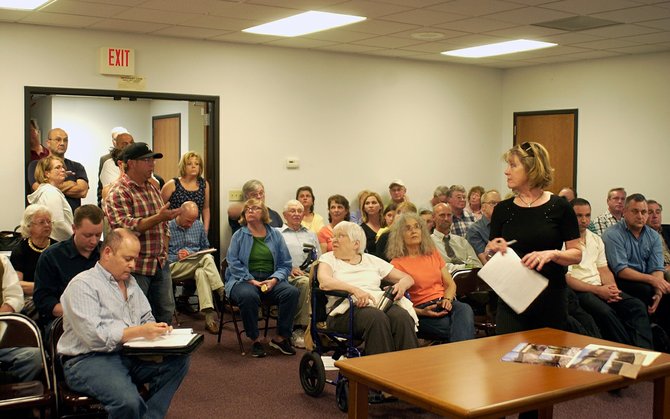 continued — "That's why we take a very careful review of the project," Voss said. "We are taking a long time to look at this … we have been very careful."
Voss said when a devastating storm like Hurricane Irene hits the town, "everyone's systems will fail." Voss restated that the DEC "will not allow the project to create any additional problems" with stormwater runoff.
"The flooding that is occurring down near you folks is caused by multiple different sources. This in the past may have contributed to that because of the runoff from the cornfield … a barren, plowed cornfield actually creates more runoff than a meadow or grassy surface," Voss said. "As that cornfield stays in its current form it is literally contributing not only to increased runoffs … it is also increasing the sedimentation and the nutrient loads to the wetlands, which are adversely affecting those wetlands."
Most homes would need wells
Five homes, primarily along Route 85A, are approved to obtain water service from the Village of Voorheesville pipeline. The other seven lots along Picard Road would use private wells. All of the houses also would use septic systems.
Bianchine said two test wells were dug and produced "plenty of water," more than 20 gallons per minute, and the quality was good. Town Building Inspector Jeremy Cramer said the area is known for holding a good quantity and quality of water.
Residents asked why the developer wasn't extending the village's water line to service the remaining homes and Voss said it was cost prohibitive. He added there is no concern about a loss of water to surrounding homes with more private wells in place.
Valerie Glover, of New Salem Road, said she "would be concerned" about her water supply if she were a neighbor of the development.
Bianchine said to extend water to the seven homes would roughly cost $25,000 to $30,000 per home and those homeowners would also pay higher rate, since they would be a town resident using the village's water.
Vote on this Story by clicking on the Icon