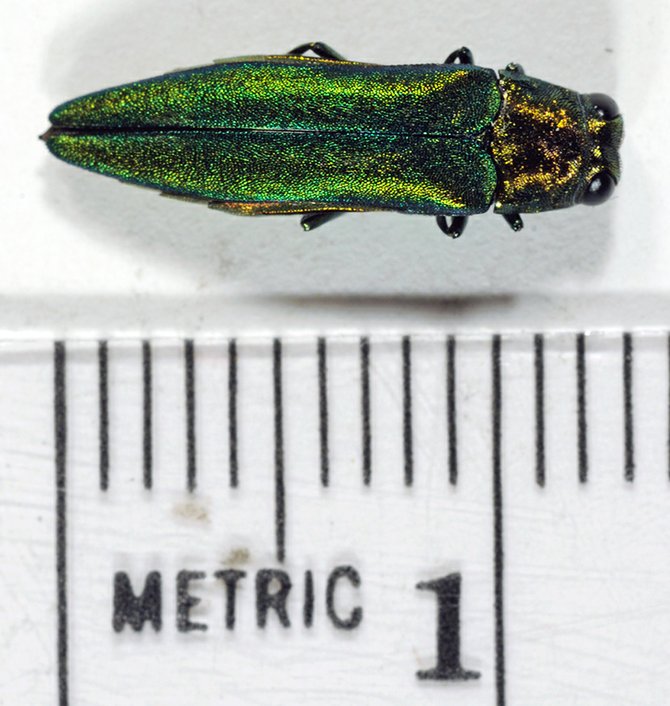 continued — One measure already being taken to slow the spread of the ash borer is the state's firewood regulations, which restrict the movement of any untreated firewood to less than 50 miles. Ash products and firewood also can't be moved out from quarantined areas.
Pezzolla said people seem to be more aware of the problem and have brought several suspected borer samples to Cornell Cooperative Extension's Voorheesville office.
"The public is more aware of this from my perspective here at the office," she said. "We have a lot of information we can hand out to people to help them take a look at their tress."
Emerald Ash Borer Resources
To learn more about the emerald ash borer visit the state Department of Environmental Conservation's website: dec.ny.gov/animals/74604.html
The damage from emerald ash borers is caused when the insect feeds in tunnels below the tree's bark during the larvae stage. These tunnels then interfere with the tree's transport of water and nutrients, which leads to branches and then the tree dying.
Adult beetles leave "D" shaped exit holes on the bark of branches and at the trunk. Other noticeable signs of infestation are tree canopies dying or yellowing and widespread sprouting from a tree's roots and trunk. Damage from woodpeckers could be present from the bird feeding on larvae under the bark.
Infestation is tackled differently depending on how widespread it has become. More precise and costly methods are available for saving individual trees, including chemically treating the tree.
"I got this 200-year-old ash tree that my grandfather planted and I want to keep it alive as long as possible," Denham said.
Experts are research how to control and ultimately stop the emerald ash borer from spreading, but a "magic bullet" hasn't been discovered yet, Denham said. He said the state is trying to stop the insect's spread as a more permanent solution is developed.
The state has adapted the federal SLAM (Slow Ash Mortality) plan to stop the bug from spreading. It involves a variety of tactics including removing infested trees, marking and monitoring infestation boundaries and researching insecticides.
"We are trying to buy time by doing that," Denham said.
Vote on this Story by clicking on the Icon