BETHLEHEM — In a year that did not see a challenge to the state tax cap or any major spending reductions, Bethlehem residents passed the district's $90.4 million spending plan for the 2013-14 school year by a wide margin.
On Tuesday, May 21, the budget passed by a margin of 2,518 votes to 1,311 votes. Voters will now see a tax levy increase of about 3.6 percent.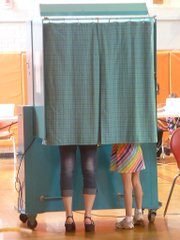 "I hope this year is an indication that we've all really rolled up our sleeves and tried to preserve the excellence in education that is know for Bethlehem Central," said BC Superintendent Tom Douglas. "This is really about the community's decision and the community overwhelmingly supported this decision that was worked on over the past 10 weeks."
At the end of April, members of the Bethlehem school board made last-minute adjustments to the budget. About $221,000 worth of expenses were shifted into this year's budget instead, after District Business Officer Judi Kehoe said BC is expecting to finish the 2012-13 year with a surplus.
The board transferred funds from equipment and supply purchases to retain a $100,000 capital improvement project, keep freshman sports and keep one full-time-equivalent hall monitor position and a 0.2 FTE health instructor position in the budget.
"I think we made the right decision," said School Board President Diane Giacone Stever. "This is the first year in a number of years where we didn't have to cut anything from educational programming for the kids."
Many residents said they found it easy to vote in favor of the budget because of the changes that were made. Turnout was down from last year, when more than 6,500 residents voted, but the district was also challenging the state tax cap then.
"The increase pinched, but it does every year," said Deborah Vogel, 62. "Without a challenge to the tax cap and no positions being cut, it wasn't that big of a consideration. I voted in favor."
(Continued on Next Page)
Prev Next
Vote on this Story by clicking on the Icon