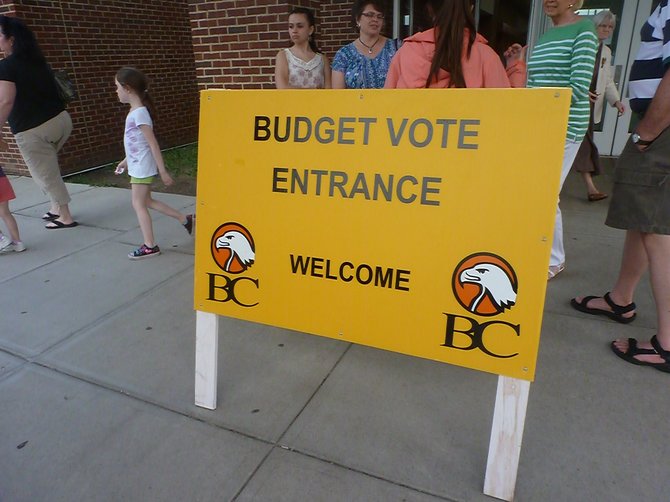 continued — Others felt the budget was "responsible" and that the process was "open and fair."
The owner of a Bethlehem home assessed at $200,000 is expected to see an $129.16 tax increase. Those residing in New Scotland will see an increase of $212.78 for a similarly valued home.
Voters also approved a bus proposition to purchase six large replacement buses at a price not to exceed $639,000. The state will reimburse about a third of the cost. The proposition passed 2,088 to 1,701.
In the race to fill two empty school board seats, incumbents Diane Giacone Stever won with 2,144 votes, along with Michael Cooper, who had 1,914 votes. Christine Beck of Selkirk came in third with 1,844 votes.
Douglas commended the school board and the Bethlehem community on the outcome of the vote.
"We have to be mindful that this board of education has been doing some of the most difficult decisions over the past several years to the point that they've reduced more than $10 million of resources to try to maintain a great educational system," he said. "I think this year they we're trying to hold off giving disappointing news to a community that expects so much of their educational system."
Ravena-Coeymans-Selkirk Central School District
Voters in the Ravena-Coeymans-Selkirk Central School District also approved a 2013-14 school year budget today by a margin of 1,665 votes to 622 votes.
Nearly 73 percent of voters approved of the $41.2 spending plan, which carries a 2 percent increase to the property tax levy. However, the plan decreased spending by about $486,400.
"The district sought to develop a budget for the 2013-14 school year that would balance our responsibility to sustain our educational mission with fiscal responsibility, and an appreciation for the needs of our taxpayers in difficult economic times," said Interim Superintendent Alan McCartney in a statement.
Vote on this Story by clicking on the Icon