ALTAMONT — Despite a soggy start and drizzly finale, Altamont's Memorial Day Parade went on as planned Sunday, May 19, when people lined the streets armed with umbrellas to honor those who made the greatest sacrifice for their country.
There were only a handful of people gathered at the parade's start at the entrance to the Altamont Fairgrounds, but as the marchers turned on to Main Street the crowd continued to grow until the route terminated at Orsini Park. After the nearly mile-long parade concluded a ceremony was held to honor those who died serving their country.
Photo Gallery
Altamont Memorial Day Parade 2013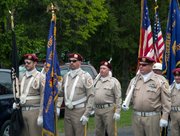 Check out the sights at the Altamont Memorial Day Parade held on an overcast Sunday, May 19, along with ceremonies following the parade.
"It is always important to remember and remembering those who have given so much makes it even more important to remember," Mayor James Gaughan said. "This is a place on hallowed ground that from the Revolutionary War did find (encampments) here to send men to war to keep our freedoms."
Cindy Pollard, owner of The Home Front Café, said when she first opened the restaurant with her husband, Jack, they only thought they would be there a couple of years. After hearing veterans share their stories and memories she filled the café with military memorabilia. They recently celebrated the café's 16th anniversary.
"In my lifetime there has been World War II, Korea, Vietnam, the Gulf War, Iraq and Afghanistan, the Cold War and all the skirmishes in between. All this time our service men and women have always been there for us," Pollard said. "I know that this is a day for respect and remembrance for those who did not return, but I hope you would also make it a day for appreciation and respect for all those who did."
She also urged people, especially children and teens, to "seek out a vet, put your hand on his shoulder and say, 'Thank you.'"
Darlene Stanton, past VFW Auxiliary President and master of ceremonies at the event, also honored Pollard for her contributions to veterans and the community.
(Continued on Next Page)
Prev Next
Vote on this Story by clicking on the Icon