GUILDERLAND — More than 60 percent of voters supported the Guilderland Central School District's proposed spending plan for next school year, holding a 3.39 percent property tax levy increase.
Guilderland's 2013-14 budget totals $91.02 million and increases spending by more than $1.76 million, or about 2 percent. Around 64 percent voters supported the budget, with 1,771 voting in favor and 1,006 opposed, according to district officials. The district's $1 million bus and equipment purchase proposition also passed by a similar margin of 1,723 votes to 1,041 votes. Three incumbent Board of Education members were uncontested and thus reelected.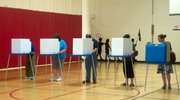 Voter turnout continued its steadily decline since the recent peak of 3,935 voters in 2010. Around 435 fewer voters cast their ballots this year compared to last year's total of 3,212.
District officials project tax rates to increase by roughly 3.4 percent.
Superintendent Marie Wiles has touted the budget as maintaining the "Guilderland education" valued by the community.
"On behalf of the students that we serve in Guilderland, I offer a heartfelt 'thank you' to our community for supporting the budget and bus/equipment proposition," Wiles said in an email to The Spotlight. "I am also thankful for all those who participated in the budget development process by attending our community forums, asking questions, and providing feedback and so informing the spending plan that will now be in place for 2013-14."
Wiles also thanked faculty, staff, parents and students for advocated for the district to elected officials, which she said "made a real difference."
This is the fourth year "difficult decisions" were made about programming, Wiles said, with the district performing a "balancing act" between cuts and the burden on taxpayers.
The budget reduces staffing by 28.25 full-time equivalent positions after 29 positions were cut this school year. Next school year's staffing cuts include 10.4 FTE teachers and 6.75 FTE teaching assistants. Outside of teaching positions, 1.6 FTE administrators and 9.5 FTE district-wide support staff will be eliminated.
(Continued on Next Page)
Prev Next
Vote on this Story by clicking on the Icon