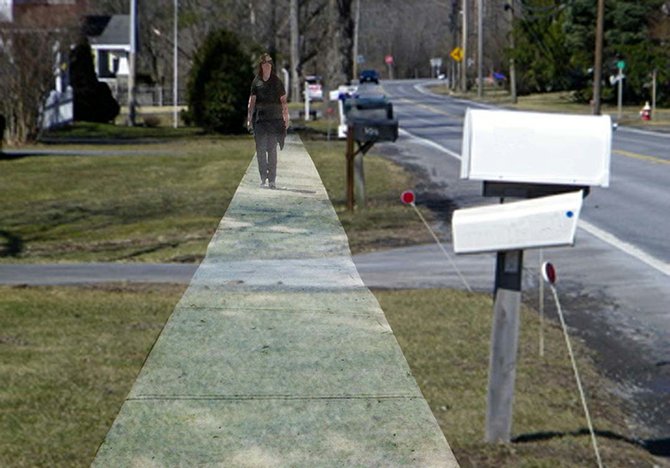 GUILDERLAND — Town officials are hoping to take a step in the direction of pedestrian safety in Guilderland Center by installing sidewalks in the hamlet.
The Guilderland Town Board on Tuesday, May 21, took the first step towards following through on hamlet residents' recommendation to install sidewalks. The board unanimously approved hiring Creighton Manning Engineering, LLP, to design sidewalks on Route 146 in Guilderland Center. The project is part of the Town of Guilderland Neighborhood Master Plan for the Guilderland Center Hamlet, on which Creighton Manning served as the transportation consultant.
"I know the people of Guilderland Center are looking forward to these sidewalks," Councilman Allen Maikels said.
Design and construction costs for the roughly 4,000 feet of sidewalks total approximately $830,000, but the town received funding through the Capital District Transportation Committee's Transportation Improvement Program. The town would be responsible for around $165,000, or 20 percent.
Town Supervisor Kenneth Runion said though the town received the grant several years ago, it had waited for the federal government to release the funds. Town officials were told funding is available for design work to be completed this year and then for construction next year. There also is a timeframe to complete the project in.
"It is a busy stretch of highway and people walk out into the road and you got a lot of things there," such as Guilderland High School and a shopping plaza, Runion said. "There are things that people can walk to … but without sidewalks it makes it pretty difficult."
A draft design of the sidewalk project is scheduled to be completed in December, and the final design targeted for an April 2014 completion. Construction is targeted to be completed in August 2015.
A public hearing will be scheduled on the project's draft design, and the state Department of Transportation will provide feedback and approval to the town.
(Continued on Next Page)
Prev Next
Vote on this Story by clicking on the Icon