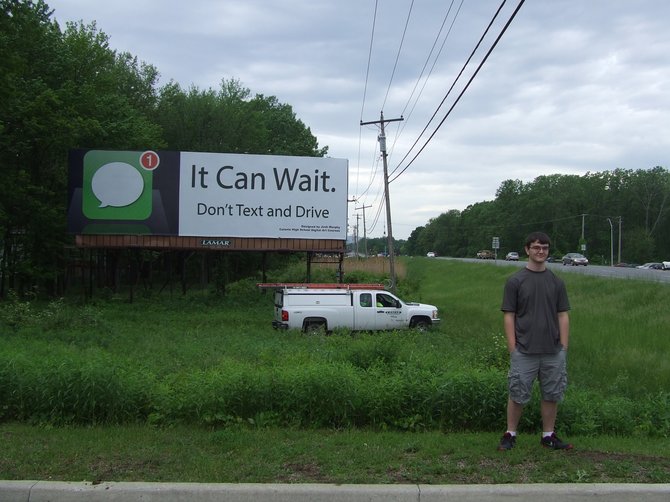 continued — Over the past month, about 35 students in both classes worked on the assignment to create a poster design for the campaign with a slogan and artwork. Students learned all about billboards, including how motorists need to see and understand a message within only seven seconds. Students also participated in simulated distracted driving exercises as well as learning different statistics on the dangers of texting and driving.
According to the National Highway Traffic Safety Administration, drivers who use cell phones are four times more likely to get into a car accident serious enough to injure themselves. Text messaging also creates a crash risk 23 times worse than non-distracted driving.
"It takes your hand, takes your brain. There's so much of yourself focused on the phone that there's not enough to focus on driving," Festin said. "Everybody does it (but don't) realize the dangers."
The billboard's busy intersection sees about 71,000 motorists daily, and the billboard will be up for the next four weeks. Duddy said the material is designed to last at least a year and they will continue to use Murphy's design to fill unsold, open billboards.
Last spring, the school sponsored a similar contest focusing on drinking and driving. Senior Emily Himmelwright's billboard, "Driving Hammered Will Get You Nailed," had a car turned on its side with a nail hammered through its roof. That design, Duddy said, was used in several locations over the period of four to five months last year.
"(We want to) give the students a chance to make an impression on the community," Duddy said. "Change people's habits, make people more aware. Give (students) some experience of what happens outside of the classroom to showcase their talents."
Festin said she hopes her students will have learned from this campaign and will help spread the word on distracted driving.
"We want our kids to be advocates to go out and say, 'Yeah, you can't do this,'" Festin said. "If we teach the kids now … they learn not to do it."
Vote on this Story by clicking on the Icon