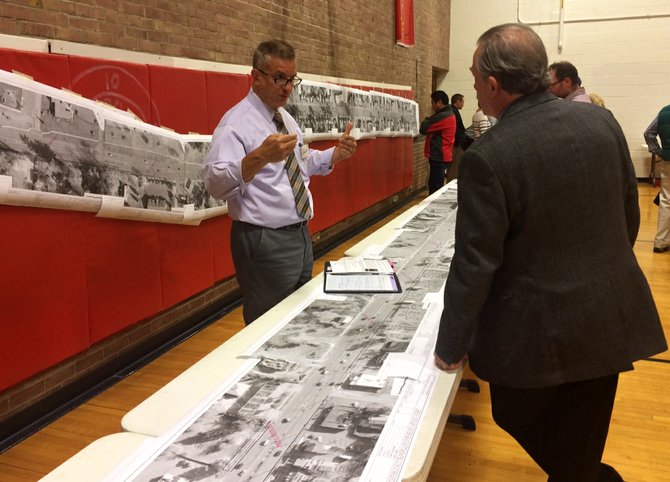 GUILDERLAND — Residents and business owners were invited to share comments about proposed sidewalk improvements along Western Avenue in Guilderland, but most thoughts centered on drainage issues and fears that future repairs would require new sidewalks to be ripped out and repaved.
Around 45 people attended the state Department of Transportation's public information meeting on Wednesday, Oct. 23, concerning the planned sidewalk improvement project, which would also tackle crosswalks and meet Americans with Disabilities Act requirements.
The project area stretches approximately three miles from around Alvina Boulevard to the entrance of the University at Albany. Sidewalk would be installed in most locations where there are none and replaced where they fail to meet standards.
The project would be completed in two phases and cost $2.6 million. The first phase would tackle the north side of Western Avenue and begin in the spring of next year, to be "substantially completed" in 2014. The second phase would focus on the south side of the street, with work starting the fall of next year and completed in the spring to summer of 2015.
The Capital District Transportation Committee approved the project through a competitive process. The agency distributes federal transportation funding for the Capital District.
"Bicycle and pedestrian improvements are an important part of our long range revisions plan," said Christopher O'Neill, principal transportation planner for CDTC. "We see this project as making a significant achievement in (pedestrian access). We do think that pedestrian improvements are very important to the transportation systems of the community."
O'Neill said the project includes many safety benefits for pedestrians and motorists.
Nancy Dover, a Knowles Terrace resident, came to the meeting to learn more about the project and show support. Dover, who lives off Western Avenue, said her concerns are likely different from property owners along Route 20.
"From where I live, there is no sidewalk and there is also no shoulder in the road, which means that come winter it is basically impassable on foot," Dover said.
(Continued on Next Page)
Prev Next
Vote on this Story by clicking on the Icon