BETHLEHEM — With the Democrats sweeping Tuesday night's general election, only one Republican continues to hold an elected office in the Town of Bethlehem.
Supervisor John Clarkson beat Republican candidate Fred DiMaggio 5,684 to 4,064. Clarkson said the election's results signify a unified Democratic party in Bethlehem. Democratic candidates won all races including town board, highway superintendent and town clerk. The lone Republican in elected town office is receiver of taxes Nancy Mendick, who was not up for re-election Tuesday.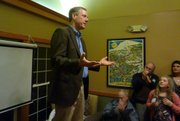 "When I first decided to run, we weren't a healthy party," said Clarkson on Tuesday night. "We had left the voters. We have now reconnected with the voters."
In 2011, Clarkson chose to run for Supervisor against Town Board member Kyle Kotary after Sam Messina made it known he would not be seeking re-election. Messina's decision left Kotary the sole candidate, who was endorsed by the town's Democratic, Republican and Independence parties.
The following year, Clarkson played a key role in helping develop the town's Reform Democrat movement, which continued the perceived split in the party after some longtime committee members were replaced.
"I think the majority of voters realize that we're now trying to move the town in a positive direction," said Democratic Chairman and Councilman Jeffrey Kuhn.
DiMaggio said the reason he opted to run for office is because he did not feel comfortable with a one-party majority in the town's elected offices.
"I don't think one-party rule is a good thing," he said. "It wasn't good for the last 150 years with the Republicans, and it's certainly not good for the past 10 years with the Democrats."
This election cycle, DiMaggio led a multi-party coalition called "Bethlehem United" that was endorsed by the town's Republican Committee. DiMaggio said the coalition came together in the spring after it was announced a referendum would take place to decide if the town should abolish the elected position of highway superintendent and place those responsibilities under the commissioner of public works. The referendum failed 3,086 to 1,969.
(Continued on Next Page)
Prev Next
Vote on this Story by clicking on the Icon