GUILDERLAND — Guilderland Central School District residents will head to the polls again on Thursday, Nov. 14, just over a week after Election Day to decide two building project propositions totaling $18.17 million. However, at a recent community meeting discussing the proposals, only a handful of community members turned out to ask questions.
About 25 people attended the Tuesday, Oct. 29, informational meeting, but a majority were board of education members, facilities committee members and other school officials. Several district officials and the project's architectural firm were on hand to answer questions after a presentation providing an overview of the facilities improvement plan.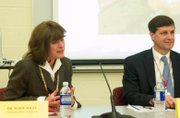 The first building project proposal totals more than $17.3 million and includes building infrastructure renovations ($14 million), safety and security improvements ($1.5 million) and instructional technology upgrades ($1.8 million). The second recommendation of around $845,000 tackled high school auditorium renovations and replacing the high school football field light pole.
"Where you will see most of the dollars tied up in this project is the replacement of building components that are a safety concern, or are at or near the end of their useful life, or a detriment to the efficient and economical operation of a building," Superintendent of Schools Marie Wiles said. "We don't want things that are close to the end of their life to fail and put us in a position where we need to do emergency repairs that will, in fact, disrupt what happens each and every day during our school year."
The first proposition would result in an annual tax increase of $65 for a home in the Town of Guilderland assessed at $246,500, the median value. The second proposition would likewise result in an annual tax increase of $3 to the same home.
The second and smaller proposal is contingent upon the first proposition being approved by voters. The first proposal doesn't require the second to be approved.
(Continued on Next Page)
Prev Next
Vote on this Story by clicking on the Icon