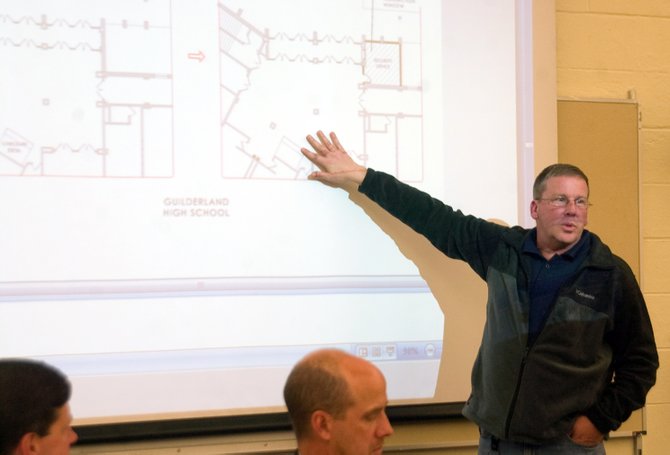 continued — Wiles said the committee decided to separate the two proposals because the bigger project "best captured" needed facility improvements. She said the committee was concerned some voters would see the second proposal as more "frivolous," but she considers that designation "a stretch."
Lori Hershenhart, instructional administrator for music, said the proposed improvements at the high school auditorium were needed because it's used as a classroom during about half of the school day and is used "extensively."
Hershenhart said the auditorium lighting is poor, requiring students to come on the stage to read any materials, and the sound system is in need of improvements.
Athletic Director Regan Johnson said replacing the light pole at the high school football field is important for safety.
"I know that the wind blows constantly here," Johnson said. "Especially on the football field, when the wind blows, I know where I am standing just in case."
The wooden light pole was installed in 1986, he said, and the wood also attracts various insects and pests requiring it to be sprayed. The new poles would be metal and mounted in concrete, and the light fixtures would be replaced.
Few questions asked
Wiles called the turnout at the meeting "stunningly low," said she was not sure why it was sparsely attended.
"We have mentioned it at every board meeting. We have sent out SNNs, it is on our website. It is the front page of our newsletter that just hit homes this past weekend," Wiles said. "I know people are busy. … The more important thing is that people come out (to vote)."
Wiles said there probably were not "a lot of burning questions" about the improvement projects, or anything "tremendously controversial." She described the upgrades and renovations as a "very nuts and bolts" project.
"All these things are things that I think your average homeowners would understand," Wiles said. "I think the nature of the things we are doing kind of resonate with folks in that respect."
Vote on this Story by clicking on the Icon