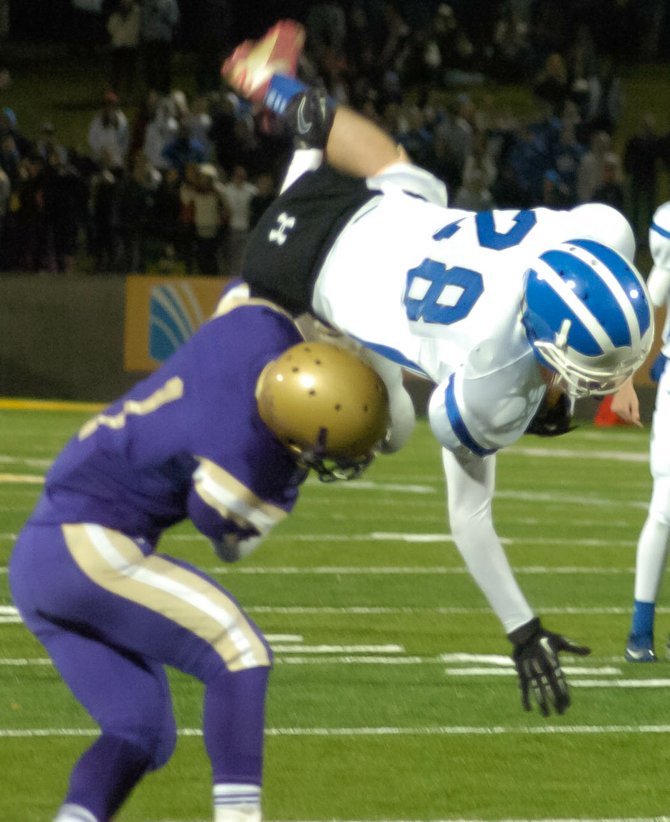 continued — The score stayed that way until the latter stages of the second quarter, when Kolbe capped a CBA series with a 1-yard touchdown plunge. Matt Hamel's extra point put the Brothers ahead 13-8 with three minutes remaining before halftime.
A series of passes by Woods moved Shaker deep into CBA territory, but Donald Vivian picked him off at the Brothers' 15-yard line with 55 seconds left in the first half to end the drive. It wouldn't be the last time CBA denied Shaker that close to the goal line.
The Blue Bison thought they took the lead midway through the third quarter when Woods' pass deflected off one Shaker receiver's fingertips and into Lewis' hands. Lewis raced his way to the end zone for what would have been an 86-yard touchdown pass, but the play was called back when a Shaker player was whistled for a block in the back penalty at CBA's 27-yard line. The 10-yard penalty gave the Blue Bison a first down at the 37-yard line.
Three plays later, Shaker found itself in a fourth-down situation with one yard to go. However, an offsides penalty and a delay of game penalty pushed the Blue Bison back to CBA's 38-yard line. Woods' fourth-down pass fell incomplete, and the Brothers took over on downs.
Another penalty cost Shaker six points early in the fourth quarter. On fourth-and-goal from CBA's 1-yard line, Quay took the handoff from Woods and burst into the end zone, but a holding call back at the 5 sent the Blue Bison backwards. Shaker got eight yards back on a pass interference penalty against CBA, and then Woods hit Lloyd Smalling with a pass. But Smalling was tackled at CBA's 3-yard line to end the scoring threat.
Shaker got one more chance at scoring a game-winning touchdown late in the fourth quarter. The sequence began when Nick Griffin blocked a CBA punt and recovered it at the Brothers' 27-yard line with 1:26 left. The Blue Bison drove to CBA's 7-yard line in the closing seconds, but Woods' final pass to Lewis on fourth down fell incomplete.
"They had all the momentum after that blocked punt, and we shut it down," said Anthony.
"I felt like we would win the game all the way through," said Sheeler. "We made several key plays to keep us in the game, but we couldn't get it done."
CBA moves on to next weekend's Class AA regional round against the Section IX champion. It's the Brothers' first trip to regionals since winning the Section II title in 2006.
"We're proud of our kids, and we're proud of CBA and its alumni," said Burke. "These kids have worked hard for this."
Vote on this Story by clicking on the Icon