QUEENSBURY — Stephen Booker got what he wanted.
The Bethlehem senior nipped Saratoga Springs' Aidan Tooker at the finish line to place fifth in the boys Class A race at Saturday's New York State Public High School Athletic Association Cross Country Championships at Queensbury High School.
"I was ranked seventh (in the state) going in, so I was hoping for a top-five finish," said Booker. "I'm very happy with my performance."
Booker and Tooker were neck-and-neck over the final 100 yards of the 3.1-mile race -- a big difference from their two previous meetings on the Queensbury course, where Tooker finished ahead of Booker by more than 10 seconds at both the Queensbury Invitational and the Section II championships.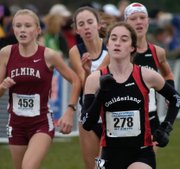 "He came up fast on me at the end, so I gave it everything I had," said Booker, who finished with a time of 15:16.6.
Booker said he used a different strategy at Saturday's state meet to help him stay strong at the end.
"I'd been going out aggressively the last two weeks, but today I took it out conservatively," said Booker. "The pack just led me along."
Booker's performance helped the Section II team take second at the state meet with 256 points. Section III -- led by state champion Fayetteville-Manlius -- finished first with 150 points. Bethlehem's Alex Carlson (52nd place, 16:24.0) was also part of the Section II squad.
Guilderland's Emily Burns and Jenna Robinson had top-50 finishes in the girls Class A race. Burns was 47th with a time of 19:01.0, and Robinson placed 48th with a time of 19:01.3.
Section II was fourth in the girls Class A team standings with 390 points.
Vote on this Story by clicking on the Icon