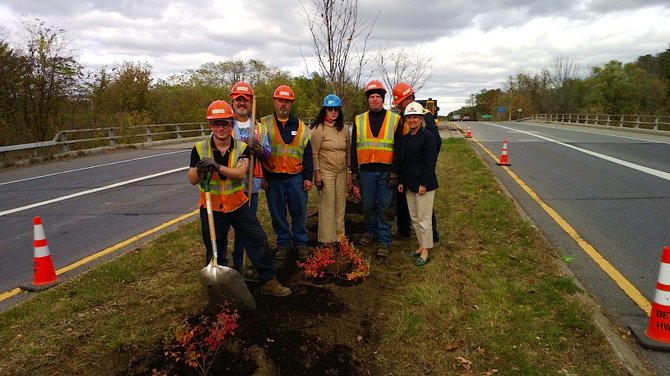 continued — At the Cherry Avenue site, the Club planted three spirea bushes and some sumac. No chemicals will be used to treat them because the town is toxin free, and the plants will not need artificial fertilizer. Acquario said the group wants to see how well the bushes hold up through the spring, at which time, the rest of the median will be planted.
"The real reason we are interested in doing this project is to help our environment," said Acquario. "It's important for people to understand this isn't just for beauty. It buffers the noise from traffic for people that live along the road and sequesters carbon, so this is a benefit in multiple ways."
She said the group also wants to make sure that area is kept up since the road is dedicated to Capt. Timothy J. Moshier, a Delmar native and pilot killed in the spring of 2006 while on duty in Iraq.
Acquario said if the pilot works and the group's work along Cherry Avenue expands, members have other projects in mind. The Garden Club would like to re-plant canopy trees along that road and several others to once again give Bethlehem a welcoming, small-town feel, but that could take a few years.
"People still do lots of walking in this town, and we want to maintain that and keep it inviting," she said. "People move here because we are one of the few towns that has that pedestrian and biking focus, and we would like to do more pocket parks."
Vote on this Story by clicking on the Icon