ALBANY COUNTY — This Veterans Day, a local Selkirk man will be one of a dozen men featured as part of the United States Postal Service's commemorative Medal of Honor stamp.
Sgt. Francis "Frank" Currey, 88, received the Congressional Medal of Honor in 1945. Currey, along with 11 other Congressional Medal of Honor recipients, will be commemorated on the booklet's cover for the new stamp. The actual stamp will depict the medal itself.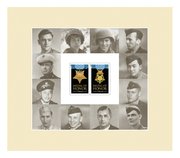 Currey was honored locally on Friday, Nov. 8, at the General Mail Facility on Karner Road in Colonie as part of the Capital District's Veterans Day kick-off celebration.
"As we learn what he has done for this country and we stand before this man, are we not humbled by his heroism?" asked Albany USPS District Manager Luke Grossman.
Currey received the Congressional Medal of Honor at just 19 years old for heroism and bravery during World War II. His actions on Dec. 21, 1944 in Belgium, led to the rescue of five American soldiers who were trapped in a home under heavy enemy fire. The German soldiers were forced to withdraw from the area after suffering heavy casualties because of Currey's efforts.
"Sgt. Currey was greatly responsible for inflicting heavy losses in men and material on the enemy, for rescuing five comrades, two of whom were wounded, and for stemming anattack which threatened to flank his battalion's position," read a USPS representative.
The stamp booklet will not be the first commemorative Medal of Honor piece to bear Currey's likeness. In 1998, a special G.I. Joe action figure was released as part of the toy's World War II series.
Postal Service officials said the release of the stamp booklet took longer than expected. The original plan was to place the pictures of each of the 12 living recipients on the actual stamp. It was later decided to place the men's faces on the booklet and depict the medal itself in order to honor all veterans who had received the medal.
(Continued on Next Page)
Prev Next
Vote on this Story by clicking on the Icon