BETHLEHEM — For some children, a year's worth of happiness can come in just one small box.
For the 15th year, Bethlehem Community Church will be collecting shoeboxes for Operation Christmas Child. The project provides gifts for children in need living throughout the world's poorest nations.
More than 9 million shoeboxes were collected by Christian ministries worldwide last year, with nearly 6.6 million coming from the United States. Locally, around 1,300 were donated from the Bethlehem drop-off site, with around 460 coming from the church's congregants.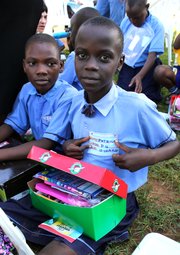 "For our church, our goal is usually 500 boxes," said Tina Bonney, center coordinator for the project at Bethlehem Community Church. "But we are also a relay site, so everyone from the area can drop-off their boxes to us, too."
Each year, local community organizations volunteer along with church members to pack shoeboxes with donated items, count the boxes and load them onto trucks to be sent to the nearest shipping center. The boxes are sent to children in 130 different countries affected by war, terrorism, poverty, disease and natural disasters.
The project was adopted in 1993 by Samaritan's Purse, a nondenominational Christian organization founded by Franklin Graham. The organization provides international aid to those in need, while spreading the word of Christianity. The project was first started in 1990 by Dave Cooke in Wales, England.
The shoeboxes are designed to provide a little relief to children from the worries of their everyday lives.
Bonney said although many of the boxes contain small toys and candy, the organization also stresses that many of the children are also in need of hygiene products, educational tools and clothing. Items such as t-shirts, pencils and notes pads, books and mini bottles of shampoo are often added to the boxes.
The organization asks that no chocolate, food items, breakable items or war-related items like toy guns be sent.
(Continued on Next Page)
Prev Next
Vote on this Story by clicking on the Icon