continued — Preordering a turkey from Falvo's is recommended to ensure the size of turkey desired. Around 90 percent of the sales come from preorders, Robilotto said. The store is located directly off Route 85 on Route 85A in Slingerlands.
The turkeys come in "at the last moment," Robilotto said, so it is "really fresh" and will not need to be defrosted.
Falvo's has also been selling their own sausage stuffing for more than a decade.
"It is an old fashioned sausage dressing just like my mom used to make," Robilotto said. "We use good, fresh seasonings and the meat is not loaded with fat, so it is not going to be greasy."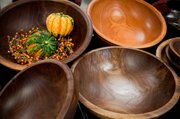 Also at the Farmers Market in Delmar are more than 40 vendors offering vegetables, starches and other sides. Tick said there is "every sort of green imaginable, and all vendors are from about a 35-mile radius of Delmar so the selections are fresh.
Tick encouraged people who have not been to the market before to check it out for "the taste and quality of the products … and the fact that buying local supports our local farmers and crafts people" and boosts the local economy.
"The interest in local has been tremendous, and when we are outdoors we attract up to 2,000 people a day," he said. "Between five to 10 new businesses have sprung up from the market. They end up with a following … and they are able to open outside the market with the own shop."
Tick said buying from local businesses benefits a community as a whole, because those businesses return around three-quarters of every dollar to the community, while chain store typical return less than half of every dollar.
Traditional Thanksgiving dinners also wouldn't be complete without a tasty pie, and Grandma's Pies and Restaurant on Central Avenue has made that their specialty.
Vote on this Story by clicking on the Icon