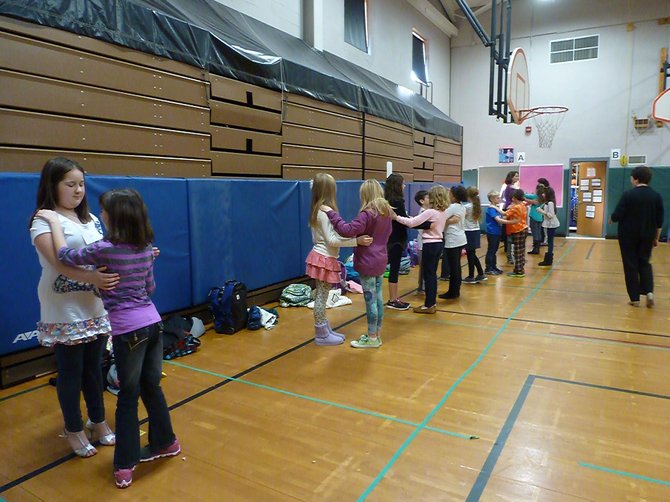 continued — At Slingerlands, the classes are mostly taught by Dance Crazy Kids instructor, Phyllis Dantonio, with some school staff on hand to help. Dantonio said she got involved after taking dance lessons herself for more than a dozen years.
"Being a retired school teacher myself, I thought it would be fun to teach children something that I love, but I never got the opportunity to teach while I was in the classroom," said Dantonio.
The instructor said some students started out with "two left feet," but the other students who have had dance training have become helpers.
Many of the students participating in the program said they joined because they had friends who were interested.
"At first my mom thought it was just party dancing, but then my friend, Sophia, told me it was ballroom dancing," said Isabel Landers, 9, who also takes jazz and tap. "I thought it was cool to try new things and meet new people and trying out new steps."
More girls are participating in the program then boys, but Zachary Isenberg, 11, and Ethan Gavin, 10, said they weren't too worried about the class being uneven or what other people thought.
"I thought it was going to be really boring, but then it was really fun," said Gavin, who admitted the program "sounds like it was for girls," but he has other guy friends taking the class too.
Dantonio said ballroom dancing is "hot nowadays" because of the surge of dance shows on TV. She also thinks the program is unique, because not many schools offer ballroom dancing.
There are also practical uses for learning how to ballroom dance.
"It's a life skill," said Dantonio. "There are many places you go out where there's dancing involved, whether it's a record-hop or a wedding, and I think it's good for children to have this opportunity."
The cost for the entire 16-week course is $1,000 per group to pay the instructors. The more children who sign-up in a group, the more the price goes down per person.
Young said she would like to see more schools in the district offer the program. She plans to see if Dance Crazy Kids will hold a presentation at each of the other elementary schools in the Bethlehem school district to see what kind of interest there is.
For more information, visit www.dancecrazykids.org.
Vote on this Story by clicking on the Icon