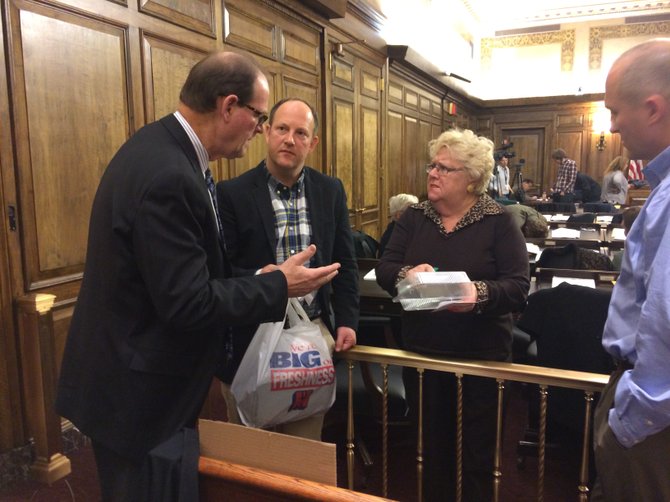 continued — "This product is not only economical, it is actually better for the environment than what you've heard. More importantly the product is also recyclable," Levy said.
Levy claimed banning the product from chain food businesses would cost from $600,000 to $2 million, with more 1,500 jobs in-state tied to companies manufacturing such products.
"Polystyrene is a safe product. It has been used for 50 years. It's been regulated by the FDA and when I (say) regulated, I mean it has been tested for exposure to consumers," Levy said. "Polystyrene foam in consumer food services is not an issue; the low levels are not going to harm anybody."
Legislator Mary Lou Connolly, D-Guilderland, said coming into the meeting she supported the ban, but was swayed by arguments against it.
"I've been doing a little bit of research, and I've learned a lot," Connolly said. "I wanted in the worst way to support this, but it doesn't make economical sense."
Connolly said the law is not fair since it restricts larger businesses, while leaving smaller businesses unaffected. Legislators supporting the bill said this was implicitly done under the belief larger corporations could more easily to bear any burden related to using an alternative product.
Legislator Douglas Bullock, a sponsor of the bill, said the cost would be "prohibitive" for nonprofits and similar establishments.
"We would have gone for everybody, but we want voluntary compliance with all those that are not covered under this law," Bullock said. "I don't like singling people out either, but you have to start somewhere. This is where you start, you start with those that can afford it."
Bullock said as the demand for alternative products that are more environmentally friendly increase the costs to purchase such products will decrease, allowing it to be affordable for small businesses.
According to the EPA, people exposed to levels of styrene exceeding regulations for a short period of time may experience nervous system effects such as depression, loss of concentration, weakness, fatigue and nausea. Those exposed to it at high levels for a lifetime may develop liver and nerve tissue damage, along with cancer.
Vote on this Story by clicking on the Icon