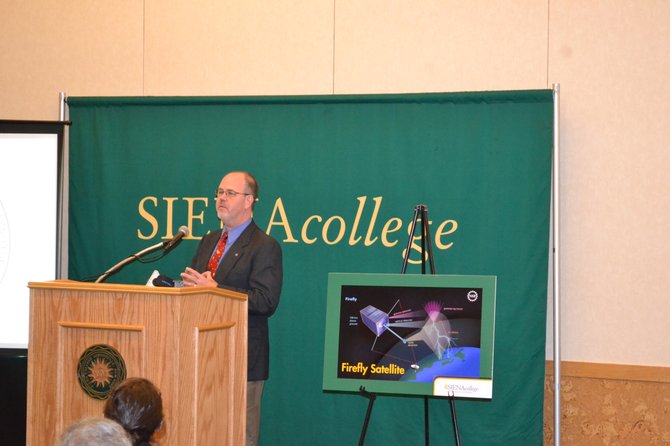 On Tuesday, Nov. 19, Siena College sent a satellite that is not much bigger than a football into outer space.
The cube satellite, named Firefly, was created by Siena College students, faculty and engineers. It hitched a ride on a Minotaur I rocket for the US Air Force ORS-3 mission.
"This is an exciting opportunity for our students. They have learned what it takes to design, build and launch a satellite," said the project's lead scientist, Allan Weatherwax, dean of Siena College School of Science.
The satellite was a joint effort among Siena, the National Science Foundation (NSF) and NASA's Goddard Space Flight Center. The Minotaur I rocket left from Wallops Island, Va., on Tuesday evening.
Firefly will be gathering information on lighting by using gamma and optical detectors to document lightning bolts.
"Bursts of gamma rays usually occur far out in space, near black holes. Firefly will provide new evidence on the relationship between lightning and Terrestrial Gamma-ray Flashes (TGFs)," said Weatherwax.
The project was funded by the NSF and is the second in a series of NSF-funded nano satellites. The budget for Firefly was $1 million. Weathermax said that may seem like a lot of money, but when you spend $60,000 on solar panels and thousands of dollars on other parts, it goes quickly.
The project, which began in 2009, was set to launch last year but was bumped from the rocket due to a lack of room. The recent government shutdown again delayed the launch.
Information from the satellite will be sent back to Wallops Island and from there, data will be sent to Siena College to be studied. The satellite is expected to collect data for three to six months and record one to two events a day.
Vote on this Story by clicking on the Icon