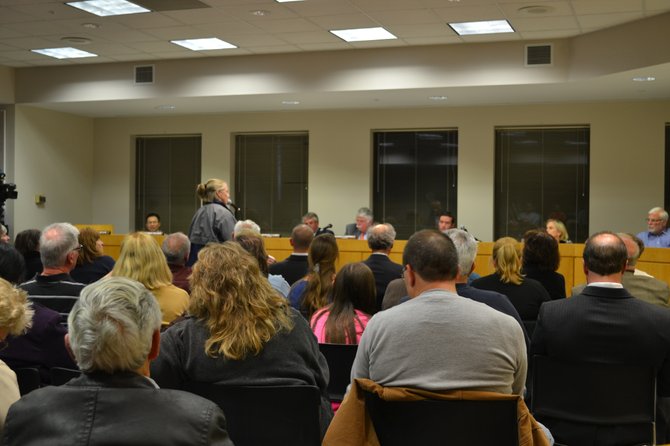 "The Town Board, not this board, the legislative board decided this (a sports complex) was a use that is appropriate only in the industrial district and the airport business area. Not in a commercial office area," said Barber, whose brief argument was met with applause from opponents of the sports complex. "It is clear based upon the collective evidence that this application fails in all regards so I will request that motion for the application be denied."
Eventually the crowd, which had been making a constant murmur throughout the hearing and at one point had to be restored to order, got a chance to speak.
The comments were split pretty evenly between those who wanted the soccer field and those who opposed it. The public comment period, which at times became heated and emotional, lasted more than an hour. Some people praised Nezaj, while others said they wouldn't want to hear joyful noises while they were visiting their family members at the cemetery.
Carol Gordon, who lives two miles away from the Memory Gardens, said a sports complex would disrupt the peacefulness of the adjacent memorial park.
"To build such an unattractive structure beside Memory Gardens is offensive," Gordon said. "The Memory Gardens is a peaceful setting for those who've passed and for kind people to visit. I think it is disrespectful, disgraceful, disgusting and an example of money worship."
Troy resident Tamaura Demartino, who has a family member buried at Memory Gardens, said she doesn't believe the proposed venue would necessarily make a bad neighbor.
"I love cemeteries. I can empathize with the families who are concerned with the integrity of their loved one's resting place," Demartino said. "If I were to hear, off in the distance, happy sounds of children getting exercise, this would be more happiness compounded. It makes me sad to think the sounds of children playing are a disturbance to people. My children's grandfather rests in Memory Gardens, and I would be more inclined to see to him."
The board has given both attorneys 60 days to submit documents while board members look into the legalities of the zoning and continue doing research. The date for the next hearing has not been set yet, but the zoning board expects to reach a decision in January 2014.
Vote on this Story by clicking on the Icon