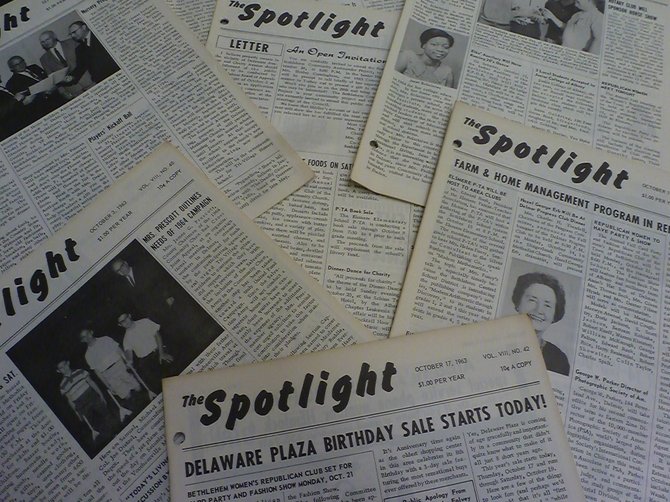 BETHLEHEM — A new project by the Bethlehem Public Library is looking to preserve a narrative of the town's history.
In cooperation with Spotlight News, the library will use donated money and a matching grant to digitize the Bethlehem newspaper's first 50 years in publication.
"This is the paper of record for the town so we've been trying to do this for some time, but the technology wasn't available," said Library Director Geoffrey Kirkpatrick.
For the past 14 years, the library has been wanting to get the project under way, but they lacked the funding. The project is moving forward now because donations have finally come together.
The library's entire collection of Spotlight newspapers from 1955 to 2005 will be sent to a company in western New York that will scan the publications, digitize them and turn them into microfilm copies, which will eventually be uploaded to the Internet to create a digital database.
Spotlight Publisher John McIntyre said the project fits well with the weekly newspaper's mission.
"We want the public to be able to have access to their local history," said McIntyre. "We believe digital copies will be of more use at time goes on, as does the library."
Kirkpatrick said a similar initiative, called the New York State Newspaper Project, was undertaken by the state from 1987 to 2007 to preserve larger, daily papers. However, small, community papers were often ignored.
For years, the library kept copies of the paper and bound them by year. Library volunteers also began clipping certain articles and obituaries to keep an index, while residents would also clip out articles they found interesting. Kirkpatrick said eventually they had so many clippings, it became unworkable.
"People want the local, historical record, but keeping track of it has always been an issue," he said.
Since some of the issues will be missing information, Spotlight News will be providing copies of their back issues in order to provide a complete reference.
(Continued on Next Page)
Prev Next
Vote on this Story by clicking on the Icon