GUILDERLAND — As volunteers from several community groups gathered last week to help unload the truck to kick off the McKownville United Methodist Church's annual Pumpkin Patch, something seemed different.
The person standing in the back of the truck wasn't their beloved driver, Ben.
"Each year for the past six years, Ben would specifically pick this route so he could come visit us," said the event's co-organizer James Stott. "At the end of each visit, he would say 'See ya next year.' As you can see, Ben didn't come this year, which means he's no longer with us."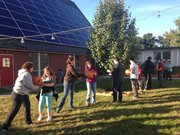 The church group orders its pumpkins each year from a Navajo farm in New Mexico. The drivers take the long trip in order to provide the pumpkins to the group on consignment. The church is then able to pay back the farm based on what they sell.
The McKownville United Methodist Church Pumpkin Patch is its 14th year. Angela Stott, James' wife, said the event started as a small fundraiser for the church. It has since grown by leaps and bounds.
In 1999, the church grossed about $7,000. Now, the whole community looks forward to the Patch and about $30,000 worth of pumpkins are typically sold. The church gets to keep 40 percent, which goes toward its mission scholarship programs.
Mission trips have been funded to places like Haiti and Long Island in previous years. The church also sent a peace ambassador to Ireland. One of the church's most recent trips was local, when church members took shifts helping Schoharie residents rebuild their community after Tropical Storm Irene.
Visiting the Pumpkin Patch has developed into a tradition for those in the community.
"The connections we've made are really what stands out," said Angela Stott. "Last year, I was talking with a customer about what the profits were for and he was so impressed he looked for more information to see how he could help. The man turned out to be in construction and he inspired his crew to go to Schoharie and volunteer, so we helped inspire that, too."
(Continued on Next Page)
Prev Next
Vote on this Story by clicking on the Icon