continued — Doyle explains that even with a supportive family, "your family still treats you differently, and they get that, they just get it."
The camp is open to all women facing the diagnosis of any type of cancer, not just breast cancer, and can be as physically challenging or as soothing as each woman chooses.
"You can make the weekend as busy or challenging as you want," said Eva Simpson, a staff member at Camp Braveheart. "It's unbelievable the strength that the women undergo and overcome fears."
Simpson said that through the exercise activities, as well as wellness education and social interaction, the organization helps to increase self-esteem and confidence, in addition to helping address the fears that women face during and after treatment.
"We have women who are currently in treatment, women coming out of treatment that attend, and we also have campers that are survivors 10, 15, 20 years out," Simpson said. "It really gives it a powerful essence for those women to bond with."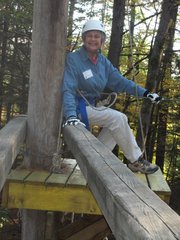 Camp Braveheart was started 13 years ago when three women, all newly diagnosed with cancer, met at a similar breast cancer support group just outside of Rochester.
"Just being away from it all and with folks dealing with the same stuff was very healing and very positive," said Karen Haag, one of the three co-founders of Camp Braveheart. "That fellowship was a real powerful experience for us."
Haag said they wanted that same experience to be available to women in the Capital District.
"We didn't want the retreats to be 'cancerish.' We didn't want them to be clinical or cold. We wanted them to be full of love and laughter and about support, friendship, stretching our limits, finding reserves of strength and courage that maybe they didn't know they had before" Haag said.
Vote on this Story by clicking on the Icon