continued — Each year, close to 500 cancer survivors attend the Camp Braveheart retreats, which are offered from May to October in Lake Luzerne, Shelter Island and The Pocono Mountains.
Sherry Huzar, a Camp Braveheart staff member, said it's not just about challenging yourself on the high ropes or horseback riding.
"The All About Me weekend in August is very pampering," she said.
Campers do need permission from their doctors to attend, and Simpson said an oncology nurse is always at each campsite if needed.
Doyle said the experience was a lifesaver for her.
"Just ask my family what I got out of it. They said I came alive. I was talking nonstop about it. The women were inspiring. It makes you sit back and say, what I went through is nothing compared to what they went through, and yet they are still out there living full lives, " Doyle said. "There is life after cancer."
Huzar said the goal is that the women "walk away with a feeling that they can do anything they want, they are not limited and that they have a whole new family. It's a sisterhood."
Help and have fun
When Karen Doyle and her sister, Kate Michener, the Special Event Coordinator at Maple Ski Ridge in Mariaville, were contemplating which organization to support with this year's Fall Festival and Car and Tractor Show, it didn't take them long to settle on Camp Braveheart.
"There are so many organi-zations out there fighting for the cure, and that is so important, but (this is) a place where women can go to be together and share their stories," Michener said. "Karen came back reenergized and she made some fantastic friends that she stays in touch with and continue to be a part of their life."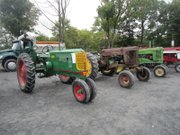 This is the second year Maple Ski Ridge will support the organization.
Vote on this Story by clicking on the Icon