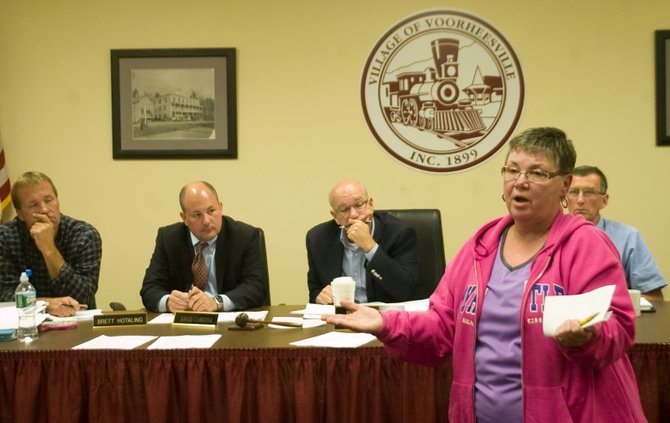 VOORHEESVILLE — Tensions between Voorheesville officials and its local ambulance service were reignited after the mayor voiced concerns in the village's seasonal newsletter.
Voorheesville Area Ambulance Service members and residents packed the village Board of Trustees meeting Tuesday, Sept. 24. More than 40 people filled the chairs and overflowed into the hallway. The ambulance service rallied for supporters to attend the meeting in response to Mayor Robert Conway's comments in the village's one-page, double-sided newsletter, "The Village Report," mailed to residents. The majority the newsletter consisted of Conway restating financial concerns the board has with its historic ambulance service provider.
Ambulance company members contested several statements made by Conway in the newsletter, which he said is aimed at making residents "aware of the facts and to, hopefully, clear up any misconception or misinformation."
Conway wrote of five instances in which the board felt the company didn't act as "fiscally prudent" as the board preferred, including prior reluctance towards revenue recovery, losing an ambulance, inability to staff for 24/7 coverage, insisting on continued reserve account funding and not agreeing to include language in the village's contract to return a portion of its assets to the Voorheesville if the company dissolved. The last is the most recent contention resulting from this year's contract negotiations, which was completed recently.
VAAS recently submitted its proposed 2014 budget to the village, which is reduced 4 percent from this year's budget. Conway, in the village's newsletter, said the expenditure reduction was "good news," but suggested the decrease should be greater.
"We must bear in mind that the squad is on duty 35 percent fewer hours and answering an estimated 70 percent fewer calls," Conway wrote. "Picture what would happen if you told your employer that you would be working 35 percent less hours but still expected 96 percent of your pay."
(Continued on Next Page)
Prev Next
Vote on this Story by clicking on the Icon