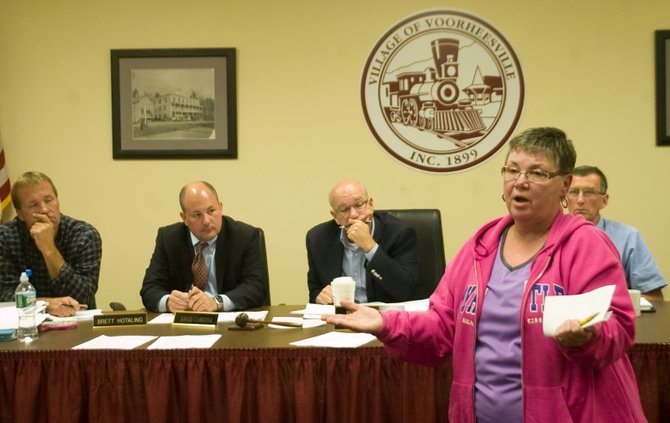 continued — He encouraged everyone to voice concerns or ask questions by attending board meetings, or contacting him, and that call was answered Tuesday.
"We're losing very, very good people because they don't want to deal with any of this," VAAS Treasurer Laura Blow said at the trustees meeting. "We are not wasting any taxpayer money. We're not stealing money or blackmailing or sticking it to the village. We're doing the best we can on a volunteer squad with what we have to work with."
VAAS First Lt. Kate Odell read aloud the company's response letter to Conway's comments, in which it contested several statements he made.
Conway said costs associated with the ambulance service in the village's 2005-06 budget approached around 42.5 percent of the total taxes collected. Odell claimed this was inaccurate and said its proposed 2014 budget would be approximately 2.6 percent of the village's budget.
Voorheesville's adopted 2013-14 budget totals $2.12 million and increases spending by around $140,000, or 7 percent. The village is budgeted to raise more than $275,000 from taxes.
The company's proposed budget for next year is nearly $90,250, which would be approximately 32 percent of real property taxes levied for 2013-14. The general fund — excluding water, sewer and special districts — totals more than $1.4 million.
Odell also contested the loss of an ambulance, resulting in $40,000 in taxpayer money being essentially thrown away.
VAAS retained a broker used for two prior ambulance purchases, but this time the broker took a current ambulance and cash deposit as down payment and pocketed the revenue. The broker died soon afterwards, leaving an estimated loss of $40,000, according to Conway.
Odell said the ambulance manufacturer reduced the cost of the new vehicle purchased, so the "actual loss" was $23,345. The company tapped reserve funds to cover the loss.
Vote on this Story by clicking on the Icon