ALBANY COUNTY — Local officials and community members got a first-hand look at what going green looks like during a recent tour.
The Stormwater Coalition of Albany County hosted a Green Infrastructure Tour Tuesday, Sept. 24, for elected and municipal officials, engineers and other community members to see for sites across the county where green ideas have been implemented to manage stormwater issues. Projects ranged from porous pavement being used at Antoinette Estates under construction in Colonie to green roofs helping to reduce runoff and provide energy efficiency and atheistic benefits.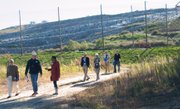 The event was funded through a state Department of Environmental Conservation grant to help educate local officials and industry members about green infrastructure, to evaluate existing codes and develop local laws to encourage or support environmentally friendly practices.
"The purpose of today's programs is to make real the green infrastructure and practices that you may have heard about or read about," said Nancy Heinzen, program coordinator of the Stormwater Coalition. "The starting point for green infrastructure is a concern we all share, which is keeping clean. It is a way of preventing stormwater pollution from getting into our rivers. Not only do we want to keep our streams clean … we want to do things actively that improve water quality."
Heinzen said implementing green infrastructure practices and techniques is how water quality can be improved through smaller projects like a rain garden or larger endeavors such as stream restorations. Green infrastructure tackles many areas, but the event focused primarily on water quality.
"If we reduce the amount of runoff going into the streams, that means there is less pollution going into the streams and there is less volume hitting the edge of streams so we don't get the erosion and stream instability," Heinzen said.
Keeping rainwater on site can reduce runoff, but using plants to absorb water is another method. Plant roots will also slow down the water, allowing for bacteria to start breaking down pollutants. If pipe drainage systems can be opened to form a natural stream, called "stream daylighting," water pollution is also reduced.
(Continued on Next Page)
Prev Next
Vote on this Story by clicking on the Icon